Transit Jam – a valued source of investigative journalism and transport sanity – closes. HKFP report. Although the site has always focussed on transport/industrial safety, the editor has recently been labelled a 'foreign troublemaker' by a CCP-run newspaper. A recent story might be related.
Another urban-environment campaigner, Paul Zimmerman, has bowed out from District Council work.
The latest on the HK47 subversion trial. Report subject to contempt-of-court restrictions. Non-local outlets will, um, likely have more details.
Baptist U's student union leaders quit after the school's administration sanctions the body for not conforming to 'societal values' and 'exaggerating descriptions of past events'. You know – usual stuff.
Beijing objects to a Korean NGO awarding Chow Hang-tung a human rights prize…
According to the May 18 Memorial Foundation that presents the award, Monday, three officials from the Chinese consulate in Gwangju, including the consul general, visited the office of the foundation to have a talk with Chairman Won Sun-seok.

During their talk, the trio urged the foundation to reconsider its plan to present the human rights award to the 38-year-old activist, claiming that she is a "criminal who took part in a violent protest that inflicted damage on China."

The foundation rejected the request, saying a country should not intervene in a decision made by a private institute.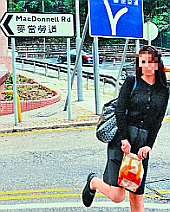 On a less-depressing note, light but interesting Standard story on young Mainland tourists finding unusual things to photograph in Hong Kong, like holding a McDonalds bag on McDonnell Road. (Just keep off my escalator.)
No fewer than a couple of dozen economists and think-tankers pontificate on whether China will do a post-bubble Japan. Some you can probably skim through. George Magnus expands on his contribution ('don't bet the ranch on China') here.