WaPo op-ed lamenting the DC 'improvements'…
One might wonder why the government doesn't just scrap the District Councils altogether, or simply appoint all the members, instead of staging an elaborate pseudo-election. Hong Kong's leaders, and the real rulers in Beijing, clearly want to maintain the fiction that citizens still enjoy some of the freedoms they were promised when China regained sovereignty over the territory in 1997. But it's not an election, and it's certainly not democratic. It's a farce and should be called out as such.
No response yet. But a similar editorial in the WSJ prompted a touchy reaction from Chief Secretary KK Chan…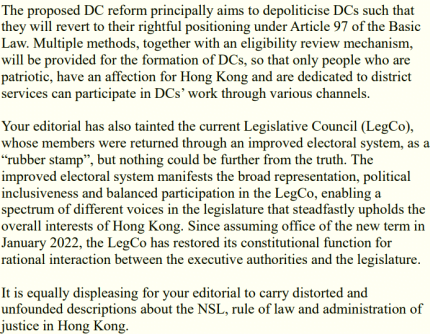 The all-patriotic Legislative Council gets slightly non-rubber-stamp for a moment, as several members from the FTU criticize the government. As well they might: the administration will hire no fewer than three directorate-grade officials to oversee something called the 2025 National Games – at salaries and other costs totalling nearly HK$4 million each (not counting a support staff of 40)…
…Under Secretary for Culture, Sports and Tourism, Raistlin Lau, described [the] comments as "unacceptable".
Other patriotic politicians get uppity over former minister Frank Chan's likening of District Council members to easily-fired domestic helpers. It doesn't help that they must undertake the thankless task of manning street booths promoting the new-look election-light DCs to an unenthusiastic public.
Cynics might wonder if the pro-establishment types were allowed/urged to speak out in order to make the 'improved' legislature look less toothless. But there's a tradition of some relatively aware pro-Beijing figures resenting pressure to support unpopular policies – and the current government clearly struggles to be loveable.