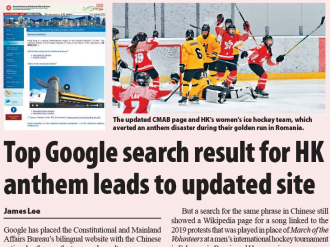 The HK government finally more-or-less resolutely fixes its national anthem Google algorithm woes by putting the music clips on its own English-language website (instead of linking to a PRC government site in simplified Chinese, which 'would have been unintelligible to the organizers in Sarajevo'). Who would have thought it could be so easy? Why didn't they just do this from the start?
Now maybe they can sort out the traffic/parking mess on Queens Rd Central – and hundreds of other streets in urban areas where cars come first and pedestrians last.
Some mid-week links…
The Guardian looks at rights lawyer Xu Zhiyong – once hailed as one of China's top legal figures, now in prison for 14 years for 'subversion'.
British politicians feel effects of being sanctioned by Beijing…
Lord Alton recalled one occasion when he was warned the Foreign Office could not guarantee his safety if he went to see British troops in the Middle East with a parliamentary committee.

…"But I was given warning by the Foreign Office in advance that they couldn't guarantee my safety.

"The anxiety would be that [China] might have an extradition agreement with a country you're visiting, and it might just suit that country to ingratiate themselves with the People's Republic of China because of, perhaps, indebtedness over Belt and Road."
From CMP, all you wanted to know about the 'Six Adheres'. For example, Number 2 is 'Self-confidence and self-sufficiency (自信自立)', meaning…
…China must adhere to a "firm faith" (坚定信仰) in the tenets of socialism, and a "firm belief" (坚定信念) in Xi Jinping Thought. This involves the so-called "Four Confidences" (四个自信), which for a time in 2021 became five.