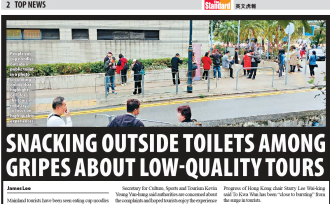 The scumbaggiest part of the always-tawdry tourism industry demands an increase in squatting, lunchbox-munching-outside-toilets group tours…
A tourism trade representative said on Monday that there's a need for Hong Kong to operate low-cost tours, saying it doesn't necessarily mean that they would engage in forced shopping.

Last Friday, Chinese newspaper Oriental Daily reported that such tours have filled parts of Kowloon, with mainland tourists having to eat cheap takeaways on the streets.
The industry says such tours are essential 'to revive the [tourism] sector'. So how about not reviving this parasite industry? Why does a developed economy, with a shortage of both manpower and space, need millions of low-spending visitors? Or is pushing up rents and angering the populace the whole point?
On the Mid-Levels escalator over the weekend, I encountered a parade of maybe two dozen bewildered and depressed-looking elderly Westerners – all in disposable plastic raincoats – being led by a sleazy-looking flag-waving guide. No instant noodles, so presumably they were at the classier end of the mass-tourism spectrum. But even so, they were in serious danger of being flung over the side by irate locals with things to do. 
Modest proposal: make members of 'low quality' tour groups wear numbered tags and confine themselves within a strip of barrier tape, which they must carry themselves.
Photo of the Day: if Regina Ip and her entourage stooped over and pointed at you, wouldn't you feel like a fish out of water?