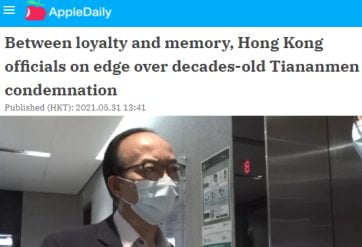 A tragic wave of memory loss breaks out among Hong Kong pro-Beijing figures, including CY Leung and three current government ministers, about statements they signed in 1989 denouncing the June 4 massacre in Beijing.
That compulsory SIM card registration system that you and the rest of the public have called for will take effect March next year. (Background here. Obviously a command from the CCP. Can you imagine the Hong Kong government really doing something in response to popular demand?)
Seems you also now need a licence for a museum – at least, if it's about June 4.
The League of Social Democrats announce that they won't take part in the forthcoming 'elections'. They couldn't anyway: most of them are in jail, and the CCP's candidate-screening mechanisms would almost certainly reject those who remain free. The same goes for any younger-generation/localist groups that have not disbanded or been proscribed. The more mainstream Civic Party, also with leading members in jail, was last heard talking about disbanding. Of the various splinter/fringe pan-dem groups, the ultra-moderate/pragmatic ADPL might be tempted to help the CCP out and play the role of solitary token-opposition useful idiots. Unless, of course, the venerable Democratic Party, in whole or in part, debase themselves by joining in.