The cases of 47 pan-dem activists accused of 'subversion' (taking part in a pre-election primary poll) are moved to the High Court. This could mean they get a jury, though since the CCP deems a primary election a national-security threat, this sounds unlikely. It also means they could receive sentences of up to life in prison, which in theory should also sound wildly unlikely – but where the courts are concerned these days, anything goes.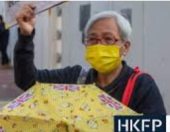 'Grandma' (actually a fairly spritely 65) Alexandra Wong gets arrested for unauthorized assembly while alone. This raises all sorts of possibilities – maybe rioting in your own home, or conspiracy with yourself. (The cops have since let her go. This was presumably 'punishment' for the banners she carried: if her placard had been advertising PCCW broadband, there would have been no problem.)
Some mid-week reading…
From HKFP, the insult that would be a 'race' between Carrie Lam and CY Leung to be Chief Executive; not only is the CE 'election' a farce predetermined in Beijing, but the office of CE itself is now little more than a puppet. As with LegCo, right-thinking people should treat the charade with disdain, and limit their participation to poking fun at official announcements and ill-informed media reports suggesting an 'election' is happening.
If you ever thought Hong Kong schools should focus a bit more on music, here's some good news: new NatSec Regime guidelines urge the teaching of patriotic (presumably CCP-spun) songs from the Sino-Japanese war of 1937-45.
Today's must-read: Jeffrey Wasserstrom in Mekong Review on remembering June 4.
How to deal with Tiananmen denialists on-line. A good briefing on how on-line disinfo/propaganda spreaders do their thing. (Cue another from HKFP – the disinformation campaign about the first-aider shot in the eye on August 11 2019.)
In-depth article on the planning and ideological aspects of Xi Jinping's model socialist new city south of Beijing. Xiong'an represents a resurgence of the state vis-a-vis the private sector, and the North over the South. Unlike, say, Deng's Shenzhen.