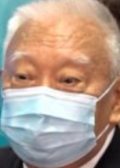 Looking unmistakably slightly like a mummy staggering out of the crypt, Tofu-for-Brains appears on stage to announce that people wanting to leave Hong Kong 'lack foresight', and the city 'has what it takes to become the place where everybody wants to be', and 'the best is yet to come'. For full effect, imagine the words coming from the captain of the Titanic. If you get the impression that, despite all the finger-wagging, he is not absolutely convinced himself, you're right – the guy always was too guileless/nice/simple to bang the table with total resolve while spouting brazen lies like a CCP professional.
(By the way, fans of useful idiots will like the 'righteous foreigners' section at Tung's HK Coalition group website: an Eric says Hongkongers must embrace Bay Area common identity, while one Oriol says hooray for the Five-Year Plan and Fintech hub! HK Coalition theme song? You're welcome!)
On a more serious note, the HK and Macau Affairs Office is expanding its capacity to include a new propaganda department to 'weed out incorrect viewpoints', and some sort of national security function – which will presumably coordinate seamlessly with the existing NatSec Office. And RTHK is resolutely crushing internal resistance.
Some mid-week China-watching reading…
Willy Lam on how Xi Jinping plans to mark the CCP's 100th anniversary.
CMP explains how Beijing sorts out unruly government social-media accounts.
In Lowy Interpreter, the Oz vs NZ laboratory experiment: is it worth being nice to China or not worth the bother?
J Michael Cole argues for defending Taiwan…
Many who argue for abandonment tend to have a very weak understanding of Taiwan, the history of the conflict in the Taiwan Strait, and the increasingly important role that this vibrant economy and successful democracy plays in the 21st century. Most of them write as if they've never set foot in Taiwan – and indeed, some never have. 
A (long) Hollywood Reporter piece on the US movie industry's relationship with China following the hoo-hah over Nomadland.
Critics … argue that China has cannily leveraged its market heft to co-opt Hollywood's global pop culture machine into effectively carrying the water for one of the country's most important lines of strategic global messaging: that China's rise as a global superpower is a benign or stabilizing phenomenon. 
In SupChina, All you want to know about China's mega-'bad bank' Huarong.
How the 1942 Battle of Midway informs China's military thinking.