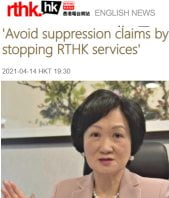 Genius Lateral Thinker of the Year Award goes to Regina Ip for finding an exquisitely elegant solution to the problem of RTHK's commissar-boss looking bad when he censors current affairs programming: scrap all current affairs programming.
Ronnie Tong, perhaps realizing the no-calling-for-a-boycott law could hugely increase the boycotting, appeals to everyone to stop making a fuss about it. Even an SCMP editorial wonders how encouraging lawful acts like not voting can be unlawful…
The recent display of support by shoppers for a pro-democracy retail chain in response to a raid by authorities shows people can react independently to what they disapprove of.
More here. Next thing, maybe it will be a crime to laugh at the HK Police goose-stepping ('inciting disrespect and hatred towards valiant servants of the Party', or maybe 'sabotaging government recruitment efforts').
Reuters on how HK University is trying to pay lip-service to both the NatSec Law and its commitment to academic freedom. Can the institution serve two masters? To give an idea which way things are going, the CCP's new official history declares the Cultural Revolution to have been an anti-corruption campaign. And the Great Leap Forward was a national weight-loss drive.
Another public database becomes off-limits to the public – this time, the electoral register.
Perhaps not necessary after reading this far – Why I left Hong Kong, by Nathan Law in the Spectator.