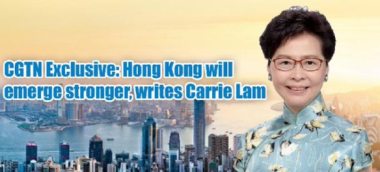 The electoral 'improvements' plan is out. The details are complex and designed to numb your brain to the plain reality: Hong Kong's elections will be rigged to such a degree that no elections actually happen. But the sheer multitude of different mechanisms and approaches, all aimed at keeping the popular pan-democrats from winning, goes beyond blinding observers with superfluous process. There's pathological hatred, obviously, of Hong Kong's democrats. And there's paranoia about Hong Kong in general – even the establishment. But also maybe there's fear of the 'relevant' Chinese officials' bosses. Seriously: how much work did all these duplicated, multi-faceted layers of redundancy take?
For example, try the vetting process, presented for your convenience in a nice simple flow-chart – on which three of four courses lead to 'invalid nomination'. It's a lot of complicated steps simply to implement the CCP shadow government's 'Deny Candidacy' list. And yet it's getting more window-dressing.
Or check out the interesting gerrymandering, with most of Lantau plus Cheung Chau, Lamma and Peng Chau lumped in with most, but not all, of Hong Kong Island in one constituency, while the Yuen Long urban area is split between two constituencies, as is neatly contiguous Shatin. Presumably, this is to dilute pan-dem strongholds. But to be safe, each of the 10 new constituencies will elect two members to LegCo, in order to make sure that pan-dems can't win more than half the seats. Oh, and they can't do that anyway, because they are in jail, again and again. 
In the tech sub-sector, pro-dem elements have lost their votes while pro-Beijing ones have been included (and presumably newly created). Journalists/media groups are being removed from the cultural/sports/etc sub-sector. Mainland organizations are becoming corporate voters in other functional constituencies. This is piling on the overkill.
The rubber-stamp 'election committee' will be packed with even more losers, who will 'elect' (actually implement the CCP's 'Preferred Candidates' list) loyalist-clones to dozens of new Legislative Council seats.
Most pitifully, the government will make it a crime to call for people to boycott or cast blank votes in these forthcoming quasi-elections. The supposed reason is that it may pressure voters and 'affect their freedom to choose whether to vote', or it is 'sabotaging' the election (unlike pre-approved candidates and gerrymandering). The CCP's real fear – illustrated by the maximum penalty of three years in prison – is that a boycott will highlight not just the electoral farce but the regime's lack of legitimacy.
Aside from being desperate (and unconstitutional under the old freedom-of-expression rules Hong Kong once had), such a move will obviously prompt citizens to wonder how they can still register opposition at (or not at) the polls. It's not so much opposition as non-acceptance, or rejection. Clue: don't cast a blank vote; do the, um, other – that is, 'go hiking on election day'.