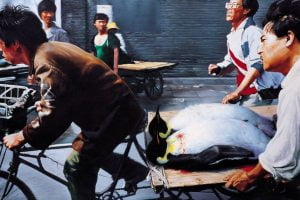 How much Mainlandizing rectification clampdown-purge stuff can Beijing cram into tiny Hong Kong in just one day? Take a deep breath…
The new and very expensive M+ museum will, it seems, censor Ai Weiwei's 'Tiananmen finger' photo – and presumably dozens of other artworks that don't pass the patriotism tests. So I guess we've seen Wang Xingwei's New Beijing for the last time. Ta Kong Pao is continuing its attack on some of the museum's acquisitions; the subtext here is that M+ is infested with not merely unpatriotic but downright foreign curators and artists.
(Conspiracy theory fans will enjoy the suggestion that the M+ controversy arises from CY Leung's supposed lust to be next CE – Carrie was on the West Kowloon Hub Zone board at the time the Sigg collection was acquired.)
Investigative reporter Bao Choy goes on trial for making false statements in order to use a public database the 'wrong way'. A list of car registration details like this is open data – it might as well be posted on a large wall for any passer-by to peruse. Now, according to the government's logic, if you access the information for one purpose, you're not breaking the law; access it for another, and you are. The judgement will somehow take three weeks. Expect this to lead to other public information, like company and land registration, to become harder to get.
See her RTHK documentary on the Yuen Long MTR attack here.
If you think that's a farce, wait for the case of Andy Li – one of the HK 12 – who will be charged with: colluding with foreign forces (when he was in detention in Shenzhen for most of the time) by calling for sanctions against China; conspiring with Jimmy Lai and others to flee Hong Kong; and possession of ammunition (spent tear gas shells of the sort most of us took home as pen-holders and souvenirs in 2019).
The new-look patriotic 'positive-energy' RTHK answers the question that has been nagging us all for some time: how does Zimbabwe feel about foreign interference in Hong Kong? And the answer is that the African nation has become fed up – utterly sick and tired – of other countries meddling in the city's internal affairs. And, since you ask, protest-stricken Belarus and plucky little Laos feel the same way. How heart-warming that we are in these distant lands' thoughts.
And, of course, the Hong Kong government suspends BioNTech vaccinations owing to a small number of packaging problems among the batch that all of us seem to have had. 
Realistically, the suspension no doubt makes sense while the experts do their checks, and they'll find it's no big deal and the jabs will recommence in a few days. The idea that the government would somehow contrive or inflate a problem to discredit the non-patriotic-but-better vaccine or force everyone to get Sinovac is surely ludicrous – no officials would be so corrupted and debased, let alone idiotic. Surely. Right? It must be significantly less likely than, say, Andy Li colluding with foreign powers or the police conniving with Yuen Long thugs. Yet the suspicion – for all its absurdity – just won't quite go away.