After a slightly slow weekend, the Mainlandized Rectified Patriotic Blob stirs into action again.
Eight of the HK12 are transferred back from Shenzhen to Hong Kong under circumstances that attract criticism from lawyers. 
Beijing's officials will want to make examples of them. This might mean telling the Justice Dept prosecutors to lay maximum charges and demand maximum penalties. But it could mean offering a few of them some leniency if they make appropriate confessions and recantations. Mainland authorities must have been leaning on them during their seven or so months in detention up there, and it would be a good opportunity to introduce some new CCP-style approaches to justice in Hong Kong, and to send a message of 'positive energy' to other young people.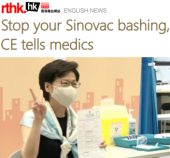 Carrie Lam's CCP-worshipping over Sinovac leads her to rail against medical experts as if she knows far more about vaccines and related matters than they do. This is a repeat of her outburst last week, when she accused unnamed parties of 'smearing' Sinovac and trying to undermine public confidence in vaccinations. 
Maybe she is taking her frustrations out on others because she can't face the reality that she herself has destroyed public trust in the government's dedication to the people's health by pushing Sinovac when it seems clear BioNTech is a superior product. (Leaving aside the other ways the government has shredded its own credibility over its handling of the pandemic, or the ways she has disillusioned and alienated citizens generally with her overt loyalty to Beijing rather than to their city.) She perceives Beijing as watching her carefully, while uppity medical professionals make her – and the Motherland's glorious and generously supplied vaccine – look bad. Equals temper tantrum.