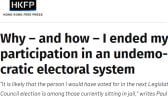 An HKFP op-ed writer deregisters as a voter. Not sure this makes sense. The more right-thinking people there are on the electoral rolls, the smaller the percentage turnout of registered voters will be when they boycott an election. A turnout below 30% would be a major embarrassment to the government. Register but don't vote.
We've discussed it knowingly for a year, now find out what it is: everything (it's big) you wanted to know about herd immunity, by HKU's Prof Ben Cowling.
Jerome Cohen comments on the inconsistent results of the HK47's bail applications, and how the NatSec Law is 'expansive and hopelessly vague'. HKFP on the weird reporting restrictions. Reuters on the Yellow online store catering to the needs of political prisoners.
Transit Jam on the sustainability of FoodPanda-type deliveries in Hong Kong, including tales of delinquents ordering tiny items from stores just a short walk away. Obviously, getting meals delivered (unless you're aged and infirm) is slovenliness beyond even that of the wretches who buy microwavable ready-cooked rice from Marks & Spencer. But Hong Kong supermarkets' hyper-cramped interiors and long check-out lines don't exactly make shopping in person a pleasant experience.
NPR asks where Covid-19 came from. Looks like wildlife farms – encouraged by the government – in southern China. By 'wildlife' we mean bizarre beasts you're not supposed to domesticate.
How Beijing gets an easy ride when the US news media are owned by entertainment companies.
From The Initium, a huge collection of posters and Lennon Wall-related materials from 2019.
Probably busy tomorrow catching up on the Midsomer Murders Bot. But here's a quick quiz… Japan has the highest percentage of people aged over 100 in the world. Hong Kong has the third-highest. Which country comes second?