Here's an intriguing piece by journalist (and former guest of the Mainland's NatSec apparatus) Ching Cheong on Beijing media and other documents dating from 2003 up to 2019, outlining plans for direct central control of Hong Kong. Among them is a policy of 'retaining Hong Kong without undesirables'. Seems Xi's current clampdown is not a new or original idea.
Which brings us to the latest rectifications…
A pro-Beijing lawmaker (the only sort, these days) accuses the yet-to-be-opened M+ museum of infringing the NatSec Law, prompting Chief Executive Carrie Lam to declare that the government will be 'on full alert' and not allow arts to threaten national security. Yes, they're coming for the paintings. (This might have been prompted by the museum's pledge not to censor. Examples of images the valiant NatSec police might round up at dawn here, here, here and here.)
And CCP paper Ta Kung Pao does the same to the HK Arts Development Council. Only a matter of time before any cultural or creative group will have to pre-emptively declare its patriotism in order to use public funds or facilities. 
Meanwhile, the Dept of Justice suspends senior prosecutor and critic of police tactics William Wong. And a new oath-requirement will presumably be used to disqualify pan-dem district council members. Also, RTHK's new boss aims to go full patriotic.
Anything I've missed?
Ah, of course – judges. Reuters reports on fears that patriotism tests for officials will apply to the judiciary.
And let's not forget the internet. In Nikkei Asia, an expert on how Beijing is likely to take rectification online here…
Hong Kong's internet has not developed with control in mind as China's has. This difference will create technical challenges that make exporting the Great Firewall wholesale to Hong Kong exceedingly difficult for Beijing.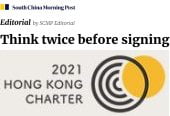 But … Beijing has no shortage of censorship and surveillance tools at its disposal and some may even be more effective in Hong Kong than in the mainland.
Far away, resistance is stirring. I've had the 2021 Hong Kong Charter open in a tab for several days, and the SCMP, no less, nudges me to take a proper look. It's put together by Nathan Law and others and designed to serve as a rallying flag for 'diasporic' Hong Kong and to focus international advocacy efforts. The tone hints at a proto-government in exile, which you may find pretentious or inspiring – or (my preference) cool because it's guaranteed to annoy all the right people. The SCMP, in a more-than-averagely gutless editorial, advises its readers not to go near it. So here you are.