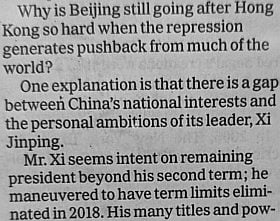 Happy hundredth to the NatSec Law!
An on-the-spot report of the bail proceedings for the pan-dem 47, giving a taste of the idiocy of it all. It prompts the question: why is Beijing going to such bizarre – and probably counterproductive – lengths to quell disquiet in Hong Kong? Even allowing for the CCP's usual paranoia? Why have they decided to cut through all that 1 country 2 Systems/Basic Law stuff and just seize direct control?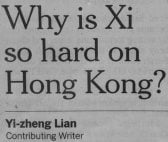 Joseph Lian in the (maybe paywalled) NYT thinks it's because Xi is angling to remain in power beyond the usual two terms. He needs some Big Victories to justify it, and yet he is surrounded by problems – from Belt-and-Road, to Taiwan, to rivalry with the US. A decisive crushing of Hong Kong's 'threat to national security' opposition movement fits the bill perfectly.
This would account for the timing of the charges against the 47 pan-dems (the proceedings look rushed as well as rigged), just ahead of the two meetings in Beijing. The idea would be to make it look like Xi has faced down a mortal threat, and is emerging triumphant. Give the guy a third term!
Carl Minzner on the Xi personality cult being nurtured in official publications…
In these articles, Xi is the focus. He is the one that is making things happen. It isn't about the Party.  It isn't about institutions. It isn't about other leaders. It's about him.
The fate of Hong Kong now can only be permanent, tighter CCP control. Mainland think-tank guy Tian Feilong on Beijing's plans to reshape – indeed, replace – its Hong Kong ruling class. Less space for hangers-on and 'rubber stamps and loyal garbage'. Those who live by the shoe-shine die by the shoe-shine. But watch them grovel and beg for another kick in the teeth as the CCP shoves them to one side.
From Hong Kong Watch, a big and well-researched report 'Red Capital' on how Beijing has been gradually expanding its influence in Hong Kong's economy. Just read it.