The Hong Kong Bar Association has slammed the government for planning changes to the immigration law that would enable it to bar individuals from leaving the city. (Reports here and here.)
The government gets in an almighty righteous huff, claiming with a straight face that it would never infringe the Basic Law or Bill of Rights. (Report here.) But of course we have already been told that the NatSec Law overrides those two documents – so obviously the government is lying again, right?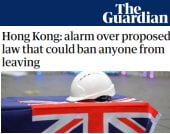 But here's another angle, drawing on an earlier government explanation to LegCo, and concluding that if the proposal has any political purpose it would be more to 'deny entry to HK at the point of departure, instead of when they arrive'.
Maybe critics have indeed misunderstood the government's intentions and wrongly assumed the worst – exit bans on dissidents – when the planned amendment is in fact only about inbound refugee-seekers.
But (leaving sloppy official wording aside) why shouldn't people believe a report about new powers to prevent critics from fleeing?  It sounds exactly like what the CCP's NatSec Regime would do next, straight after imposing NatSec brainwashing on kids and just before tighter Internet censorship or whatever they have lined up for next week. As the 10% take-up rate of the pandemic contact-tracing app shows, the government has long gone past the stage when the public has any trust in it.
Update: much more on all this from Aaron Mc Nicholas.
In case you missed the HKFP's recent run of recommendable features… A 1967-era Leftist protester meets a young 2019 pro-dem one, and, despite many differences, both loath Carrie Lam. An interview with the annoyingly reasonable-sounding guy behind the biggest blue-ribbon Facebook group (a scion of pro-Beijing Macau elites who runs a company investing in Xinjiang). Op-eds on: the proposed fake-news law; the difference the NatSec Law – exemplified by the Jimmy Lai case – has made to the Hong Kong legal system; and fatalism vs change in Hong Kong. Some profiles of Hongkongers moving to the UK. Hotel quarantine artwork. And how people imprisoned after the 2019 uprising are keeping friends on the outside up to date by writing letters that are posted online. Apparently…
Prisoners may write and send as many letters as they wish to any person…
Why do I get the feeling the vindictive NatSec Regime will want to tighten up this relatively liberal rule before long? (You can write to them – be a penpal – too, including via email.) 
And a thread on the annual fortune- disaster-stick draw at Che Kung Temple.