In another boost for the UK's BNO passports, the Hong Kong government issues measures for schools ('specific measures', no less) to make kids obey the NatSec Law and not sing rebellious songs or link arms.
Every school must nominate teachers or committees to ensure that students are taught that the NatSec Law is necessary and wonderful, and they are privileged to be subject to it. If schools find any student mentioning politics, they must call the police under the new Emergency Kids-discussing-politics Crisis Procedures. 
The aim is to…
…strengthen students' virtue cultivation … and help them understand the constitutional order … and their national identity
There's also removal of books from libraries, careful examination of notice-boards and similar fun stuff. Biology lessons are going to get weirder.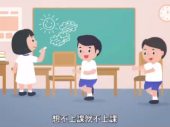 Kindergartens are included in this creepiness. And international schools will be expected to enter into the spirit of things.
See here also for the propaganda video for primary-level kids. Since most eight-year-olds are probably into (age-appropriate, wholesome) manga and anime, they will note that the vid features the same civil-service-designed cartoon characters you get in all the other infantile, condescending government publicity campaigns – and no doubt draw their own conclusions about cultivating virtue.
Coming soon: Xi Jinping Thought for kiddies, and exchange tours with Young Pioneers.
(Additional information for parents here.)