Paul Harris hit the ground semi-kowtowing when he took over as chairman of the Bar Association two weeks ago. He expressed opposition to violent protest as sternly as any government minister. He also tentatively suggested that Hong Kong could restore extradition arrangements with Western countries if Beijing made a few changes to the National Security Law, so it doesn't blatantly override rule of law. That would fix the awkward situation where a murderer could flee Hong Kong and never face justice.
This polite and constructive proposal went down like a cup of cold sick among Beijing's local officials. It wasn't just because he also said the New Year Purge of over 50 pan-dems was a blatant abuse of the law. And of course it didn't help that the 'rule of law' he mentioned is the Western variety the CCP detests. But Harris's greatest wrongdoing was probably suggesting that the Hong Kong administration and local pro-Beijing figures might take the lead in creating dialogue with the Chinese government. This win-win/charming/naive idea would, to the CCP's ears, sound like an attempt to usurp its influence over the city. Beijing tells the local administration and shoe-shiners what to think – not the other way round. Foreign lawyers don't tell anyone.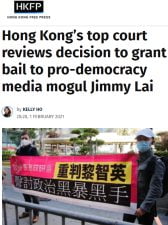 Thus the Liaison Office issued a statement accusing Harris of 'personal arrogance and ignorance', 'dragging the Bar Association into the abyss', 'challenging the constitutional order' (for daring to suggest a CCP edict was imperfect) and so on. And the local Liaison Office-run media are blasting Human Rights Monitor (founded by Harris) as a US-funded agency, and declaring that the Bar Association is turning into a new Civic Party and should be stripped of its right as a professional body to decide who can or can't be a barrister. And now Beijing's propaganda team drags an assortment of obscurities into the orchestrated barrage of criticism.
The moral is: if you don't want your head bitten off, don't be cute and make sensible suggestions to the CCP. Your role is to obey, not think.
In other legal matters, the Court of Final Appeal heard Jimmy Lai's bail case yesterday. The government argued that…
…the default position for suspected national security law violations is that no bail should be granted to defendants.
Which basically means the regime can put anyone in jail for months – many months – on the flimsiest, most absurd charges, so long as it comes under the vague NatSec Law. And, if you are Jimmy Lai, transport you in chains in an armored truck under armed guard, just to send the rest of us that message (again): Your role is to obey, not think.
The hearing is also controversial because there is no overseas Court of Final Appeal judge present. For an extra dash of weirdness, in the actual trial starting in a couple weeks, Lai is being defended by Audrey Eu, while her brother Benjamin Yu is the prosecutor (replacing Dave Perry QC). This would not be allowed in some jurisdictions because, in theory, one sibling might (say) go easy on the other, to spare him/her embarrassment. HKFP explains.
And then the Diplomat (picking up on Stand News) mentions an (easily) overlooked trend in the weaponization of Hong Kong's courts: a multitude of individually minor travesties of justice in lower-level hearings before magistrates and district courts in which the police get away with providing false testimony.
To end on a cheery note, try a sample of the sudden outbreak of obituaries – from the Australian, the Guardian and the Business Standard.