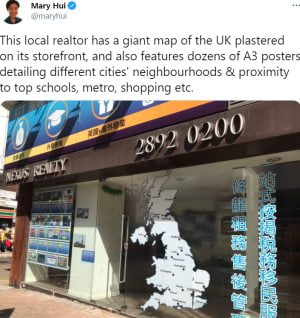 So much Mainlandization and general mayhem in the last few days: the Bar Association struggle session, a quick 'consultation' on real-name registration for SIM cards, hints at more ambush-lockdown compulsory-testing operations, and more. We start the week with Beijing's Big BNO Freak-Out…
On Sunday, the Hong Kong and Macao Affairs Office … strongly condemned the British for violating its promise not to give BN(O) passport holders right of residence…
The office claimed the UK was beautifying its colonial history and called this "a shameless logic of bandits', seriously hurting the feelings of the Chinese".
Beijing's local minions repeat warnings of retaliation against BNO passports, now the UK is offering those eligible for them plus dependants – maybe two-thirds of the population – a route to residency. There's a lot of uncertainty about Beijing or local authorities 'not recognizing' BNOs. Can the government force airlines not to recognize the documents as valid for outbound travel? Will it sanction those who hold BNOs if they are, for example, civil servants? Can it even identify who holds one? If BNO holders are hassled (it seems to have started already), what message does it send the hundreds of thousands of Hongkongers holding Canadian, Australian and other documents?
There's a lot going on here.
The CCP has multiple reasons, yet again, to be angry. It sees ethnic Chinese as essentially the property of the emperor, and Beijing's officials are seething that another country dares presume to have some sort of rights over part of the bloodline. It finds it insulting that foreigners claim to wish to 'protect' Chinese from their own rulers. On a more practical level, Beijing is paranoid about its subjects potentially having foreign allegiances (unless they are CCP elites' family members). And of course it will be humiliating if sizable numbers take up the UK's offer. Beijing's immediate impulse here is simply to hurt someone, out of frustration.
To many Hong Kong people, citizenship has always been a rather fluid concept, like national identity. A foreign passport has long been seen as a desirable insurance policy, and even as a status symbol. Any effective action Beijing takes to penalize BNO (or other foreign passport) holders will have to be heavy-handed and intrusive. What better way than hinting at exit controls to confirm families' suspicions that they need to get out of this city? Airy talk of 'just replacing them with Mainlanders' will further convince people to pack their bags. Most Hongkongers are descended from people who fled CCP rule in the 1950s-70s.
Hong Kong's own local officials must recite Beijing's line, but in reality they are torn by all this (and not just because Carrie Lam once promoted BNOs). Many middle-ranking civil servants/cops and their families have foreign passports. As we saw in the 1990s, the urge to emigrate is infectious. Any serious retaliation by Beijing against BNO-holding families could impact people's lives a bit like US sanctions have affected the top officials – encouraging an exodus among bureaucrats along with the rest of the middle class.
In short, Beijing might really want to assimilate Hongkongers, but its fury over BNOs is more likely to create a bigger diaspora. Meanwhile, on top of 'ambush' lockdowns and SIM card worries, the FT reports that companies want Hong Kong written out of arbitration clauses in contracts.
Remember these arguments from 30 years ago?
The UK has stumbled on to a win-win. It can appear virtuous, while boosting its aging population with immigrants who are no less hard-working than Poles and Somalis, but who – after they have sold their apartment in Shatin – will be GBP millionaires.