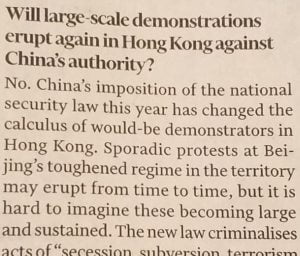 What will happen in 2021? Will Hong Kong explode? The Financial Times' New Year forecast waves the question aside with a confident 'nah'. But local academics doing a survey of students believe the city is a powder-keg. If I were the Hong Kong government, I would take my time about vaccinating the rabble and letting them assemble again.
A safer prediction: in parts of the world where Covid is the number-one menace, 2021 will surely be better than 2020. In those places where the main threat to decent life is the Chinese Communist Party, the coming year will be worse than the last. Which brings us to…
Quartz on how the Hong Kong judiciary's days as an independent safeguard are numbered.
"I honestly never thought we would get to this stage," said one member of the legal community …  "One month ago, I said to a colleague I didn't even imagine that after 2047 it would be like this."
A Reuters feature on Beijing turning up the heat on the Catholic Church in Hong Kong, which is responding with cowardice/pragmatism/belief in miracles, in the form of pre-emptive kowtowing.
And more gradual muzzling of the press. A new thing: online press conferences, in which officials can (presumably) filter out the questions they want to answer. Oh, and expect Apple Daily to shut down – or be rectified out of all recognition – too.
Also in the CCP's sights will be what's left of electoral politics, with a marginalization and rectification of dem-dominated district councils, and a dem-free Legislative Council poll to come. Under the NatSec Regime, these never-powerful bodies are purely ceremonial, but the CCP's determination to cleanse public life of opponents will sap the system of what little legitimacy is left. The government will no doubt find itself fighting a popular campaign to boycott the LegCo election.
Instead, we can expect much more talk of people voting with their feet as the UK opens its doors to BNO passport holders. An SCMP op-ed looks at why Hongkongers moving to Britain may need to give up local residency rights. Will the CCP also start trying to identify, if not weed out, foreign-passport holders in the civil service and other institutions?
Foreign Policy sums it all up and declares the death of the post-1997 narrative that Hong Kong would become freer and 'more itself' after British rule.
On other matters…
A short documentary on Zhang Zhan, the lawyer whose reporting from Wuhan landed her in prison.
A Jerome Cohen op-ed in the SCMP on why Zhang's case is special…
The Communist Party may soon decide to release her, however, not out of charity or regret, and certainly not because of her "good behaviour" but because, if she is at death's door, they will not want her to die in custody, which always looks bad for the jailers.
Jerome Cohen reminds us of another area where the CCP will tighten control in Hong Kong in 2021: education. His brief memoir on the early days of the now-scrapped Universities Service Centre at Chinese U.