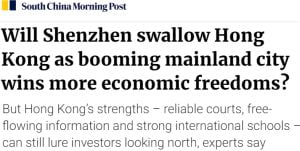 Following the Emperor-for-Life's recent visit to Shenzhen, lots of scary-sounding stuff about how Xi Jinping is favouring the Special Hub-Zone over Hong Kong, Shenzhen is ahead, blah blah.
After SARS in the mid-2000s, Hong Kong officials tried to divert attention away from 'politics' (ie bad governance) by launching a contrived campaign of alarmism about the city's supposedly declining competitiveness vis-a-vis Shenzhen and Shanghai. Skeptics replied that the whole purpose of Hong Kong since the 1840s has been to serve as a location where you can do things you cannot do on the Mainland. There is no point in Hong Kong trying to rival Mainland cities at their own game.
Since the CCP can't tolerate a free press, independent judiciary and free flow of capital on the other side of the border, Hong Kong's distinct advantages and roles should be secure. The Leninist system that keeps the party in power in the Mainland also prevents the Mainland economy from evolving to compete with Hong Kong (or surpassing middle-income status generally). Without serious institutional reforms that weaken CCP control, a Mainland city can't 'overtake' Hong Kong, regardless of the size of its GDP or its tech industry.
But of course you can reverse the process by tightening CCP control in Hong Kong – weakening independent institutions – and bring the city down to the Mainland's level.
Officials (and many commentators) frame this discussion around visionary economic Bay Area-type plans – hence official denials that Beijing is engineering the sidelining of Hong Kong. However, it is not about economics. Whatever sidelining now happens will be a side-effect of the real project: to eliminate Hong Kong as a political threat to the CCP.