With Covid largely under control, the Hong Kong government is to further relax restrictions on social gatherings – this time by allowing bigger tour groups and wedding ceremonies. If this trend continues, the list of unrestricted activities will become huge and unmanageable. Maybe it would be easier just to say which activities are still banned public health risks. The list would be: a) pro-democracy protests; b) beaches; and that's it. Much simpler.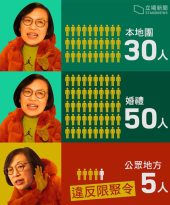 Obviously a CCP puppet administration fears dissent. But what's with the sandy-shorelines hang-up? HKFP asks why the Hong Kong government is still keeping beaches closed when malls, restaurants and other indoor facilities are allowed to operate. They fail to find an answer, unless you count the relevant organs' mumblings about swimmers being unlikely to wear masks in toilets and changing rooms.
A few days ago I tentatively suggested that Xi Jinping would get a name-check in Hong Kong's delayed-for-rectification policy address, and the great man's 'Thought' might even be mentioned. Seems the tentativeness was unnecessary…
The esoteric concept is expected to be written into the five-year development blueprint that will be unveiled after party meetings later this month. Everyone from diplomats to executives to sci-fi writers are under pressure to incorporate the broad, often fuzzy tenets of Xi Thought into their policies.
For the first time in many years, I am actually looking forward to a policy address. It will be interesting to see not only how much extra Mainland-style rhetoric and ideology it includes, but whether Beijing's officials throw out the traditional lame livelihood initiatives – or even change the longstanding and tedious structure of the speech (which reflects the fact that it was written by a committee going through each policy bureau's area in turn).
Apple Daily reports that the Mega-Bridge to Nowhere's revenues equal just 4.3% of running costs. We don't get a breakdown (basically a state secret), but the paper says revenues just about cover staff costs (presumably relatively low-paid Mainlanders). The really big recurring item must be maintenance. And what are the electricity bills like? (I guess immigration and other officials are paid for directly by the relevant taxpayers.) Forget about debt servicing. Clearly, it would be wrong to say the Zhuhai Bridge was an incredible squandering of wealth – it will go on being one for decades.