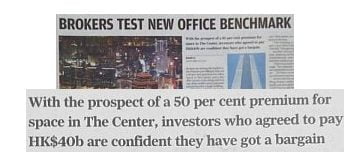 Starting with that ever-popular subject – real-estate schadenfreude. It was three years ago when the world was aghast at Li Ka-shing's generosity or stupidity in selling his remaining floors at The Center skyscraper for HK$33,000 a square foot, when the property-valuation witch doctors had divined (thanks to Henderson Land's bid for the Murray Road site) that it was easily worth HK$50,000 psf. Whatever happened to the parade of gruesome second-tier tycoons who piled in to buy and flip?
Bloomberg reports. You will be delighted to hear that some grubby fingers got burned. The vacancy rate in The Center is now 19% (partly because the new landlords are really a bit NOCD). Li put the proceeds into a London property with double the yield.
For the third month of the NatSec Law, an update from HKFP.
Chris Patten on why Percy Craddock was a jerk why China's leaders can't be trusted.
David Bandurski in Global Asia on how Xi Jinping's personality feeds into China's aggressive wolf-warrior style of diplomacy, complete with ambassadors thrusting copies of the great man's books in everyone's faces…
It is ultimately about the rise of charismatic politics in China, about the erosion of collective leadership in favor of a cult of personality around Xi Jinping … Xi is determined even to the point of absurdity to place himself at center stage … Xi Jinping is the country's alpha male, the leader of the pack, determined to inspire a fighting spirit in the Party's ranks. And he is the reason that China's hackles have gone up.
As a case-study, New Statesman on how China screwed up its soft power in the Czech Republic.
Academic James Millward's commentary on Xi Jinping's recent speech on Xinjiang. All interesting, especially Part 3 – 'Ideological language about ethnicity', which includes genetics stuff about Uighurs, Turkics etc being 'linked to Chinese bloodlines'.
Which brings us rather neatly to Xi's recent thoughts on archaeology, urging 'sound research and interpretation' of ancient relics and sites. You can see where this is going.