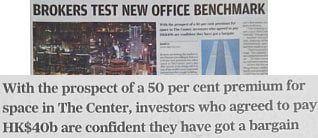 The South China Morning Post reports that people who paid HK$40 billion for Hong Kong's fifth-tallest office tower, The Center, think they got a bargain. Brokers who agree are suddenly oozing around, drooling at the prospect of the new owners flipping their acquisition at a 50% profit. The logic is that the buyers paid HK$33,000 per square foot, while Henderson Land stumped up the equivalent of HK$50,000 psf for a roughly comparable downtown site. The earlier deal set a 'benchmark' – so, obviously, the HK$33,000 valuation is a massive giveaway.
The SCMP says the purchaser is a consortium with the sleazy name C.H.M.T Peaceful Development Asia Property. The main member is Beijing energy company CERCG (charming website), whose executive explains: "We just bought the building, but we haven't really thought through the details." Others are Hong Kong business folk David Chan of the magnetic tape Acme Group, and Lo Man-tuen, member of the Chinese People's Political Consultative Conference.
They sound rather non-obvious buyers of prime office property, but that's normal in these times. (Everyone's doing it: I know a couple of low-profile people who fairly casually bought a floor of a Des Voeux Road block a few months ago for HK$150 million.)
But something nags at me. Why would venerable tycoon Li Ka-shing sell at such a discount? His bean-counters might fine-tune the occasional loss-leader special on bananas at Park N Shop, but we're talking one or two billion US dollars here. Maybe he's getting soft in the head at his old age. Or maybe he's thinking: these are ultimately a bunch of concrete boxes, and these latecomers imagine a HK$50,000 psf 'benchmark' is real and immovable – the time has come to reap the very handsome returns and cash out.
I declare the weekend open with the (alleged) story that when Cheung Kong Centre was about to be built, Bank of China told Li not to make it higher than their own new tower going up next door – so he ordered the architects to bulk out the structure to the max (hence 'the box the BoC came in') and (gotta love this) lower all the ceilings by enough millimetres to jam an extra floor in.