Commissioner Tang acts all hurt about criticism of his force's rewriting of the 7-21 history. Maybe the benighted/naive police management had no idea that anyone would notice or object to a radically fictional new account of what happened at Yuen Long. Clifford Stott – academic who walked from the rigged inquiry into the HK Police – offers his thoughts on the cops' revisionism.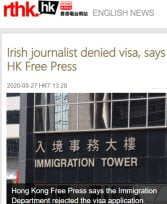 After a six-month wait, the Immigration Dept refuses a visa for highly respected journalist Aaron Mc Nicholas, who was to join HKFP as editor. Presumably, from now on, organizations in Asia's media hub that don't actively promote the government line can forget about hiring expat staff.
Paul Mozur says a Mainland-style digital dragnet is descending on Hong Kong. At some point, they will start banning whole sites (NYT, YouTube, etc). By the CCP's control-obsessed paranoid logic, they must, to safeguard the glorious motherland's 'digital sovereignty'. Meanwhile, the cops are using catch-all NatSec and tech-crime laws to detain admins of activists' chat rooms and deleting online materials.
And talking of dragnets, the Chinese Coast Guard intercepts a dozen people – at least one having been arrested under the NatSec Law – fleeing Hong Kong for Taiwan by sea. Given the standard of justice they can expect here now, who can blame them for jumping bail? 
There is talk of the Mainland marine services blocking 'several routes' (I'd have thought for the first few hundred miles there's just one basic direction to Taiwan). But If this becomes a regular thing, maybe dissidents will end up heading to Vietnam or the Philippines first, then onward to refuge elsewhere. Like I-I's or boat people in the past, but in the other direction – or like North Koreans getting to the South. 
Further down the 'banana-republic' spiral we go.
The US complains that HSBC is freezing bank accounts of senior executives at Next Media but not of individuals subject to US sanctions.It's hard to see how in the long run the bank can continue to be both British and obedient to the CCP. Maybe split it in two? Sell the bamboo-curtain operations to a Mainland institution?
A mega-investigation by BuzzFeed on detention camps in Xinjiang, drawing on extensive research of satellite photos – a story in itself (they zeroed in on locations helpfully masked by Baidu maps).
Meanwhile, in Twitter-land – this nightmare couldn't happen to a nicer CCP stooge.
On more cosmic matters – I don't often get worked up about mathematical weirdness, but this is bizarre.