An RTHK 'advisor' (dentist-cum-government stooge) says the public broadcaster must provide positive coverage of national-security and national-anthem laws in order to educate the public and nurture their sense of national identity. Obviously ordered by Beijing officials who are too dumb to realize that (in Hong Kong at least) such propaganda will increase alienation and resistance. So carry on!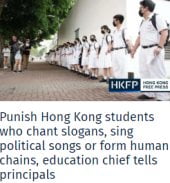 The Education Secretary tells schools to ban (the wrong sort of) politics and 'punish' kids who take part in banner-waving, slogan-shouting, or the dreaded 'referendum' on a strike. Again, clearly a Beijing idea. What better way to make kids see protests as even cooler? (I read somewhere the Education Secretary educates his offspring in Australia.)
As if in anticipation of these measures not working – indeed backfiring – the HK Police are already forming a dedicated unit to do 'national-security' work. Presumably, this group (the 'Red Berets') will house/liaise with/take orders from the Ministries of Public and State Security.
The SCMP has a graphic representing the 9,000 people who have been arrested in connection with protests since June 9 last year – with a whole 17 jailed so far. (Can't find it on their website, but these graphics are good too.)
Ever since around last July-August, the police have assumed they can arrest protests out of existence. At first they were telling officials that if they could detain one or two thousand 'hardcore' it would all be over – and they just carried on upping the figure. More recently, they've moved on to mass/arbitrary arrests. One likely reason is to gather intelligence, notably by accessing arrestees' phones, for a Mainland-style database of dissidents, sympathizers, etc. Which will come under your friendly local Red Berets.
The SCMP is also running a fairly putrid series of puff-pieces on the heroic and under-appreciated cops (here and here if you really want). Lots of oh-so candid 'caring' sentiments and tear-jerking tales of hardship. The smell of shallow, hackneyed, money-grabbing PR consultant is overwhelming.