An amusing conspiracy theory: the US and Beijing will do a deal on a watered-down national-security law behind closed doors. If you want some circumstantial evidence, the draft law is mysteriously not on the agenda for the imminent NPC Standing Committee meeting (but nor was it, at least until the last minute, for the big NPC gathering two weeks ago).
You be the judge. On the one hand, there have been signs that Beijing is surprised at the negative reaction to the law from overseas and business. On the other, Zhang Xiaoming's webinar made it clear that the CCP sees Hong Kong as a mortal threat. Clue: Communist dictatorships have not traditionally involved the US in drafting their national security legislation.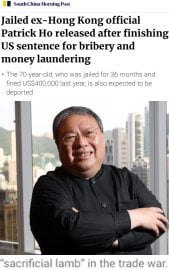 Would Brian Leung be nuts to come back to Hong Kong? In a word, yes. No point in offering yourself up for a multi-year sentence. What about Patrick Ho – now released from prison in the US? He is, I think we can all agree, excellent 'heavyweight' material and would look great wearing a Gold Bauhinia Medal and serving as Deputy Sub-Assistant Convener of the CPPCC.
Some things you might have missed in HKFP…
John Burns points out that the CCP's strategy for Hong Kong is kept secret even from the Hong Kong government. In the absence of a Party-controlled (-trusted, and even -staffed) administration, more direct rule from Beijing looks like the only way.
A useful refresher from Chris Maden on the difference between rule of law and 'rule by law'…
…the Annex III laws are, for all practical purposes, a constitutional amendment that prioritises the state's paranoia over the freedoms of speech, the press, assembly and travel
And CUHK's Denis Edwards on the likely incompatibility of the national-security law with the Hong Kong legal system…
…in a case governed by the new law, is it obvious that the ordinary Hong Kong laws of evidence will apply? What if, in the Mainland's view, local laws result in obstructing the full effectiveness of the new law?