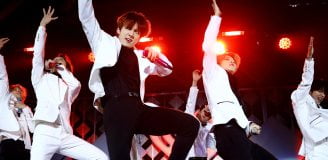 Your Mainlandization du jour – as expected – was the passing of the National Anthem (Compulsory Adoration (Sincere)) Bill. Seems it takes effect next Friday. I look forward to seeing mischievous versions of the dirge on YouTube before long.
Meanwhile, the wonders of our era continue. As if the US doesn't have enough peculiar political demographics, vast hordes of redoubtable K-pop fans support Black Lives Matter by swamping police tip-off services and racist websites with video clips of (I guess) boy bands. Just when you were despairing about kids today and their musical tastes.
And in Hong Kong, the government's attempt to ban the June 4 vigil flops nicely, prompting impromptu gatherings not only in Victoria Park but a dozen other locations, plus solemn memorials in churches.
For an extra bonus, the annual event becomes newly relevant to youth. In the outdoor gatherings, the sub-theme of the evening wasn't the traditional 'democratize China' but 'Hong Kong independence'. CY Leung is credited with inventing the concept of a HK Independence movement; the CCP is responsible for making it a reality. This is a classic asymmetric struggle: one side has all the guns; the other has all the brain cells.
Perhaps with a few exceptions. Weirdly, apart from in Mongkok, the police stood back and let last night proceed in peace. What accounted for this uncharacteristic fit of common sense on the part of the cops? It's hard to imagine their advisors in the Liaison Office caring about how bad it would look to tear-gas a bunch of people holding candles.
I declare the weekend open with another selection of suitably depressing links – many trying to work out what Beijing's new national-security regime will mean for Hong Kong.
In HKFP, Patrick Poon explains how 'subversion of state power' could work in practice, and Kenneth Ka-lok Chan fears the worst for academic freedom.
Isobel Hilton in the Guardian is in little doubt that the Chinese leadership…
…has now effectively torn up the treaty it signed with Margaret Thatcher's government and condemned Hong Kong to further unrest and decline. If Beijing's desired outcome was stability and security, it has disastrously mishandled it. Few doubt that Beijing's security law will criminalise dissent, undermine the rule of law and target prominent activists
In the Spectator, Sophie Mak examines officials' use of dehumanizing language like 'animals, vermin, insects, or diseases' to portray the protest movement.
Simon Cartledge in LRB discusses growing repression in Hong Kong…
In January, China appointed a new hardline head of its Hong Kong Liaison Office. I wondered if the aim was to find out whether it would be possible to apply the coercive techniques used in Xinjiang to Hong Kong.
Or was it so the guy could spend his pre-retirement days feasting on dimsum? Find out here.
On a related subject: why are the HK Police so touchy about the 8-31 Prince Edward memorials?
Several Hong Kong journalists imagine how National Security laws will affect their work covering the city.
Kong Tsung-gan introduces his book, Liberate Hong Kong: Stories From The Freedom Struggle.
Before they get shut down – or the HK/CCP secret police start monitoring your online transactions (if they're not already) – some causes to donate to.
Some people I follow on Twitter are beside themselves with rage to learn that Apple Daily's Jimmy Lai does not share the entire spectrum of their political beliefs, and is a Donald Trump fan. Beijing's decision to suppress Hong Kong is part of a much bigger struggle in the world and perhaps the start of a new phase of history. For those of us who wished they had been at a crucial place at a crucial date – your wish has come true. See it as a privilege to be alive and in the thick of it to witness such times…
Brian Fong in the Diplomat asks why Xi Jinping is making Hong Kong ground zero in the new Cold War? (He doesn't actually say 'damned if I know, the guy's a total effing nut' but there's a hint of it.)
In New Statesman, George Magnus ponders whether…
Hong Kong could be the flashpoint for a possible financial war … At the very least, there could be close scrutiny over all capital transactions between Hong Kong and the US, spanning both foreign direct investment and portfolio capital affecting stocks, bonds and other financial products.
And other things, including threats to the currency peg, which sound a bit unlikely. But then we get to the 'Yum – yes please' part…
The United States could also sanction individuals deemed to be implementing the National Security Law, for example, by freezing their assets, and financial institutions thought to be associated or complicit with them. 
Drooling at the thought of how this would seriously wipe some smirks off certain pro-establishment faces.
On a similar note, CSIS mull over the interesting pros and cons of various US sanctions options in a fictional NSC memo.
Following HSBC's forced kowtow, a thread on the CCP's calculated use of economic coercion.
Christopher Balding with an important reminder: the conflict with China is not caused by or a reaction to Donald Trump, and is not the result of 'poor communication/understanding'.
The Australian looks at the CCP's warping of history to justify dictatorship…
…there are no compelling reasons for thinking the tragedy that befell northern Italy under the coronavirus pandemic had anything to do with latent collective memories of Zeus or Kronos.
China Media Project examines how Chinese official media are trying to cover the US protests without seeming to endorse Hong Kong's own uprising.
From National Interest, US conservative think-tanky stuff on a potentially interesting tweak to the cross-straits balance of power.
The US officially protests China's South China Sea claims at the UN.
A New Bloom interview with James Griffiths, author of Great Firewall of China – and maybe an idea of the censorship and surveillance that might be coming online in Hong Kong.
A glimpse into dark, twisted minds as some Mainland fine-arts students fantasize about the PLA invading Taiwan.
DeepThroatIPO's latest witty/scary analysis of the analysis of Alibaba, including some delightfully rude comments about named analysts.
For history fans – Geoff Wade on the eunuch-commanded Ming-era maritime expeditions.
And a reminder that we in Hong Kong are not alone in praising the merciful Almighty for at least destroying the tourism industry…
…residents have been complaining for a very long time that the city doesn't belong to them anymore.