The Mainlandization du jour is a juicy one. After being tied to chairs and slapped around a bit, HSBC, Standard Chartered and Jardines finally kowtow to the emperor.
As with forced TV confessions, the point of extracting shows of 'sincerity' from these foreign companies is not to convince viewers the victims are speaking freely, but to send a signal to everyone else: this could happen to you. Indeed, if you are a prominent company making money here, don't expect to avoid having to take a loyalty test.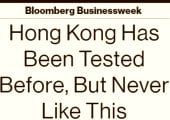 Having submitted once, they will have to debase themselves again. Maybe they will have to publicly support the imprisonment of Martin Lee or censorship of the BBC website, or denounce UK or US policies on China. And it won't stop at big firms. Want to practice as a lawyer or get a license to be a news reporter? Sign the loyalty oath. Or get disqualified. Entirely up to you.
It works on the Mainland. Whether it will win China many long-term friends or admirers in the outside world of which Hong Kong has always been a part is a different matter.
Remind me to switch my HKD into USD and work out this VPN stuff.
As Bloomberg says, these are testing times…
The obituary of Hong Kong's status as a global city has been written before … But there's a strong case to be made that something more final is under way this time.
In other developments, we learn that the Minister of Public Security now has a permanent seat on Beijing's top Hong Kong affairs body. And the HK Bar Association appeals to the NPCSC – in respectful simplified Chinese – for public consultation on the National Security law.
HKFP provides a guide to June 4 commemorations around town today. Victoria Park should still be open, and in theory you can hold a vigil with up to eight people (or maybe not if that means 'splitting into smaller groups' and the cops' Mind-Reading Unit detects that all groups have a 'common purpose'). Before setting off, you might also read this account from one of the 9,000 – a guy clued up on law but still messed around after HK Police arrested and held him last week on quasi-suspicion of unlawful assembly. (Update: oh.)