Owing to a severe attack of lethargy, Thursday this week is brought to you by a selection of read-worthy links…
An angry rant following the HK Police's ridiculous Mothers' Day antics from a member of HKU philosophy faculty.
A new union for PR folk blasts the Hong Kong government's image-salvaging efforts.
Planning activists (who by now really should know better) express dismay that Hong Kong transport officials manage to totally mangle and mutilate the no-brainer concept of harbour water-taxis, somehow turning what could be a convenient service for residents into some putrid tourist thing, surprise surprise.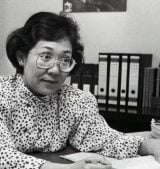 SCMP's history columnist looks back at a time when patriots were authentic like the estimable Dotty Liu (who if I recall drove around in a fetching green Jaguar). (More on her here.)
HK Free Press addresses the world's critical shortage of keyrings.
Hong Kong movies at next this year's International Film Festival Rotterdam.
Minxin Pei on how the virus is killing the China-US relationship…
For the first time, ordinary Americans going about their lives in their own country fear for their economic and physical survival, because of political repression in a distant land.
Simon Leys in a flashback to 1990: 'The Art of Interpreting Nonexistent Inscriptions Written in Invisible Ink on a Blank Page'.
Taiwan looks at long-overdue de-Sinification: of institutions' nomenclature, and of the 'unification' clause in the national Mainland relations law.