There is a theory that the CCP is deliberately trying to provoke major unrest in Hong Kong to justify sending in mainland security forces or ordering the local cops to mow people down with automatic weapons.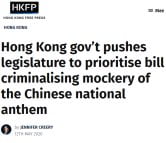 Today's evidence is the local puppet administration's announcement that it wants to ram through a National Anthem (Compulsory Adoration) Bill, which would punish acts like booing during a performance of the music punishable by three years in prison. Hey – let's do something like last year's Extradition Bill again!
(We could add the Police Commissioner's declaration that his force wants to arrest a woman accusing his officers of gang-rape, but we'll put that down to the cops' own unique approach to public-relations charm.)
A reminder from HK Free Press (from a year ago) about the 'legal malware' problems with the looming Ordinance.
Assuming the CCP leaders are not total psychos, the other explanation is a massive failure in their analysis and policymaking: they genuinely have no idea of what public feeling might be, or even any concept that it is something they should be including in their calculations. The new knuckle-draggers running the HK & Macau Affairs and Liaison Office have zero understanding of a free and open society. All they have is a robotic Leninist mindset that dissent and resistance amount to a mortal threat and must be overridden.
Stephen Vines on Beijing's frustration…
Like a caged wild animal the Party has taken to clawing at the bars and is threatening to burst out of the cage in order to seek bloody revenge. There is a dangerous mood up in Beijing leading the leadership to believe that Hong Kong's democracy movement can be crushed by brute force.
The government yesterday announced September 6 as the date for the Legislative Council election. Pan-dems quaintly imagine that the process will allow voters to exercise political power. Xinhua notes that polling could be postponed in the event of disturbances such as riots. More likely, Beijing will disqualify candidates, order rubber-stamp legislative procedures, and/or simply start to impose new laws by edict.
As their hyper-freak-out tactics on Mothers' Day suggest, the Beijing-directed HK Police will take harsher action against protests this year – and after the first few fatalities, it will be as good as a PLA-lite clampdown. Does anyone want to take bets on: when Internet censorship starts; when local top officials and judges start fleeing; when an actual HK Independence movement comes into being?