Beijing's Liaison Office in Hong Kong, when not increasing its 'supervision' over the local administration, has been amassing property in the city. The pro-dem Demosisto group's research into this is not new, but the update is timely enough to annoy the government.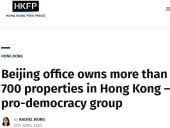 Not unreasonably, the activists equate the number of apartments in the portfolio with the size of the Office's staff. What is interesting is that the purchases of the flats go back decades. The conspiracy-theorists among us might ask whether Beijing's local officials anticipated the land and housing policies that contributed to the huge uplift in property prices during that time, and took steps to insulate their organization from the results. By 'anticipated' we mean 'had advance knowledge of' or 'actively engineered'.
A less suspicious mind would point out that it would be standard practice for a Mainland public-sector employer to provide its expatriate staff with housing, not least to keep tabs on them.
That would score a 1 or 2 on the Conspiracy Theory Scale. Here's something that would rate a lot higher…
This article in The Diplomat begins with the sentence: 'We often ascribe a basic level of humanity to even the cruelest leaders…' Personally, I don't, so this isn't a very promising start. But it gets better. The author postulates that at some point between the original cover-ups and the eventual semi-transparency over COVID-19, Beijing knowingly allowed the virus to spread from Wuhan out into the big wide world.
The suggestion concerns the CCP leadership's crude, zero-sum attitude to international relations…
Why should China suffer the effects of a pandemic while others stayed safe — and increased their strength relative to China…?
If we are going to take a massive economic hit in the first half of 2020, foreign countries can damn well do the same.
It is an appalling accusation. But – to anyone who has even passing knowledge of the CCP's cold thuggery – it makes disturbing sense.
Daniel Bell (a fan of China's 'meritocratic' model) quibbles about details on flights. And of course China doesn't exactly benefit from a collapse in Western consumer demand. Sinocism's Bill Bishop says in his daily newsletter that overdoing the finger-pointing…
…ultimately will only hurt the efforts to hold Xi and the CCP accountable. Do people really need to embellish their bad behavior? I think a much more effective approach is to sit back and let the CCP and its wolf warrior diplomats torch their reputation in many countries around the world. 
On the other hand, Beijing is not exactly keen on the idea of an independent inquiry. And isn't there something hard-to-imagine about Xi and pals putting humanity first?
With Trump and Biden preparing to compete on who can blame China most, perhaps the truth doesn't matter.