In a Night of the Long Knives for charisma-free nonentities, Mainland Affairs Minister Patrick Nip is shoved sideways in favour of the Xi fanboy from Immigration, and several other top posts are reshuffled. This entails a fond farewell to the laughable Lau Kong-wah and a warm welcome for a couple of rising, ideologically reliable officials drawn from the pro-Beijing DAB.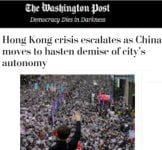 An anonymous insider suggests Chief Executive Carrie Lam was disappointed in the individuals' performances – though they were relatively uninvolved in the last year's horrendous screw-ups, and anyway she's not in charge. The lateral-thinker in me wonders if, perhaps, they were not mediocre enough? There's also a hint that, in his new role as Civil Service Secretary, Nip will be tasked with enforcing political discipline among rank and file government staff.
The HK & Macau Affairs Office issues a buy-two-get-one-free pack of general-purpose mouth-froth, accusing Joshua Wong and Martin Lee of an independence plot, blasting lawmaker Dennis Kwok, supporting police arrests of pro-dem veterans, repeating Beijing's authority over Hong Kong, whining about foreign forces, and on, and on.
Dennis Kwok expects to be disqualified.
RTHK is criticized for allowing opinion that is opinionated. And the police have a panty-wetting fit about 'hate speech' directed at themselves, which they will 'follow up'.
Cue the news that Hong Kong falls another seven points to 80th place in the World Press Freedom Index, courtesy of police violence and government evasiveness (this would pre-date the late-night press-release-airbrushing).
Hong Kong U's SPACE extramural department reportedly fires a lecturer for saying the virus cover-ups make him ashamed to be Chinese.
Human Rights Watch struggles to keep up.
For those who find it all too bewildering, bear in mind that the Chinese Communist Party inhabits a parallel universe. Rational observers might wonder why Beijing can't come to terms with an educated, free, pluralist society that essentially just wants to be left alone. But the CCP sees mortal enemies everywhere, and in its paranoid mind, Hong Kong's mainstream middle-class population is a (foreign-led) threat – and this is a fight for survival.