Anthony Cheung – academic, moderate ex-pan-dem and former government minister – marks the 30th anniversary of Hong Kong's Basic Law with a good three-point summary of why it isn't working: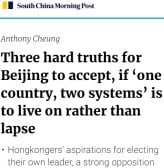 …a great majority of Hongkongers dislike a government they have no part in electing. This calls for revamping the system of self-administration through political reform.

… a popular pro-democracy opposition with majority voter support cannot be casually treated as an enemy of the state

…civil society is increasingly alienated from the establishment. If young people are expected to get more serious about national identity, patriotism has to be an inclusive notion, factoring in Hong Kong perspectives and values.
He doesn't consider how a paranoid, Leninist dictatorship can adjust to accommodate a free, pluralist, separate society that it does not totally control. Instead, he portrays the 'two sides' (Beijing and the Hong Kong people) as somehow equivalent and potentially able to resolve their differences through 'mutual trust'. But this misreads the power dynamics – the CCP is an imperial ruler that sees its subjects as its property to be forced into conformity and obedience, while the Hong Kong public have no constitutional standing or means of input.
The best hope, Cheung suggests, lies in Hong Kong's usefulness to China. After some clichéd blather about the two places' respective GDPs, he points to Hong Kong's exceptionalism – the things that differentiate it from Shanghai or Shenzhen. The problem here is that the CCP has little use for/fears/detests Hong Kong's rule of law and free flow of information. All it really values is Hong Kong's open capital account, so the elites can dollarize their assets and launder their wealth.
Meanwhile, Beijing is assuming control of Hong Kong's security and law enforcement apparatus, and has appointed veteran bureaucrat-hacks with no local knowledge to oversee the city. They appear oblivious to the problems outlined in Cheung's three points, and indeed speak mainly in terms of tightening control and suppressing opposition.
The reality is that the CCP doesn't do 'hard truth acceptance' (or see '1 Country 2 Systems' as a meaningful principle). Beijing will not allow more representative government, it will treat the pro-dem majority as the enemy of the state, and it will alienate civil society and the young. Until its dying breath.