To paraphrase PG Wodehouse, it is never hard to distinguish between CY Leung and a ray of sunshine. The half-Transylvanian CCP-worshiping mouth-frothing scourge of pan-democrats decides to unload some of his limitless contempt on, of all things, HSBC. He calls for a boycott, for local establishment figures to quit the board, and for the creation of a rival institution to be called 'Hong Kong Bank' (no doubt with a copycat red-and-white logo, like a Mainland fake Apple Store or Starbucks).
It's not clear what exactly HSBC has done to earn the wrath of the hyper-patriotic former Chief Executive. The institution has done all the usual craven pro-Beijing shoe-shining stuff, like groveling about Belt and Road, not advertising in Apple Daily and closing a protest movement account. It has suffered for its kowtowing, attracting mockery on-line and having its loveable iconic bronze lion statues, Snitch and Snot, mildly vandalized.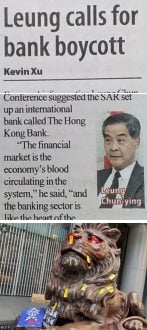 But from CY's point of view, HSBC has probably not been as fawning as it could have. It moved its HQ to London back before the 1997 handover. And it's Whitey-run, and a reminder of colonial times (and thus of China's humiliation at the hands of evil foreigners, etc).
Worst of all, HSBC is one of those symbols of Hong Kong's British heritage that have a place in local people's hearts and minds. It is a part of Hong Kong's identity. And it is traditionally the backbone of the local middle-class's stock portfolios. Families bought a board lot of HSBC every year for their kids' college fund. A taxi driver hit the headlines a few years ago after accumulating 40,000 shares and retiring at age 33. A newscaster famously burst into tears on live TV when reporting that the stock price had collapsed in 2007-08.
To an emotional if not rabid nationalist like CY, the sight of compatriots having such an attachment to a foreign/colonial symbol is a hurtful affront to the Han nation and race. These sons of the Yellow Emperor should be reverential to Bank of China! So HSBC's suspension of dividend payments (under orders of the UK regulator) is an opportunity to strike a blow against historic oppressors, to implore wayward Hongkongers to shake off their British-imposed inferiority and self-loathing, and take pride in the glorious motherland.
Plus, maybe, an HSBC teller bit him when he was a child. Can't rule it out.