If my social-media timeline reflects reality – which it does, inerrantly – Hong Kong's gwailo population is either despicable for not taking Wuhan Virus seriously enough, or pitiful for overreacting and descending into hypochondriac paranoia.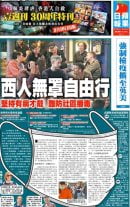 There are the Westerners who come up with reasons you must wear a mask with the zeal of the most desperate blockchain fanatics. And there are the expats whose idea of fun is joining hundreds of others crammed into a side-street bar area that looks like the descent into Hell even without a pandemic.
But maybe it's not so clear-cut. The expats congregating in Lan Kwai Fong like Korean Pentecostalist super-spreaders are, from my observation, the same nervous ninnies who buy multiple gallon bottles of distilled water from the supermarket every week because they are too precious to drink the stuff that comes out of the tap. And now the stereotyping has surely jumped the shark – with Apple Daily doing an expose on plague-ridden sai yan roaming at will in our midst.
Perhaps, you may conclude, if you average it all out, white people are not really much different from everyone else. Except, of course, you would be wrong. You have forgotten about Discovery Bay – a land where time and space as we know them have no meaning.
Over in the enclave for Occidentals who find Singapore too messy, exotic and zany, they are taking WuFlu especially seriously. Vigilantes are now threatening to shoot quarantine-breakers on sight…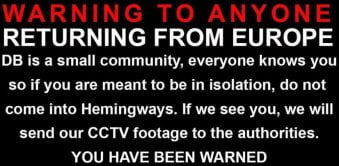 That's a message from a joint called Hemingways. Aptly named for a place promising instant justice to carriers of pestilence, no? Rugged, manly and using short no-frills sentences. (So I look it up. 'A range of tasty meat substitutes', it says. Maybe not.)