From Vox, an in-depth mauling of Carrie Lam, Hong Kong's hapless Chief Executive/Beijing puppet.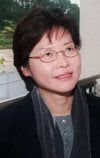 This is like shooting fish in a barrel – though the author tries hard to be fair, considering the subject is the haughty, disaster-wreaking bureaucrat 'who accidentally sparked an uprising'. And as the profile mentions, Carrie pretty much admitted in leaked comments last year that she is not really in charge of Hong Kong. The last 10 months' catastrophic campaign to force the city's people to kowtow and obey is a Leninist obsession. To Beijing, her main role now is as a scapegoat who at some point will likely be paraded around town in chains before being ritually defenestrated.
But hey – it's entertaining…
He [Lee Wing-tat] had never seen her laugh more than five times in 40 years… [and] said she became increasingly arrogant and "supercilious" as she climbed up the bureaucracy … dismissive of other people's opinions…
…on Valentine's Day in 2017 [before her quasi-election]… Lam's husband wrote a public letter that wished her luck in "contributing to the implementation of 'one country, two systems'"…
The article doesn't attempt to analyze the tragic woman's underlying personality issues. (Is she so intensely imbued with her childhood rote-learning ways that she can't conceive of alternatives to what she is doing?) It would be interesting to know how, as a devout Catholic (let alone native, well-educated, non-plutocrat, one-time student activist Hongkonger) Carrie finds total loyalty to the CCP apparently so effortless. Maybe Civic Party boss Alan Leong was thinking about her this morning when he endorsed a Global Day of Prayer for Hong Kong:
Let us confess we have sinned, humble ourselves by admitting our arrogance and conceitedness and ask for forgiveness and blessings.