Hong Kong Chief Executive Carrie Lam pleads with citizens to sympathize with the police when they pepper-spray reporters and knock people to the ground. The cops are, she suggests, extra-frazzled right now as they believe someone is about to launch bomb attacks against them.
The cops have been finding explosives all over the place, in July, October, December, February and – an enormous cache – last week. Yet despite the high-profile discoveries of lethal munitions and impressive numbers of suspects arrested, the community seems curiously unconcerned. The government is not putting up posters about suspicious objects. No overseas authorities have issued alerts. Her own insensibility and aloofness notwithstanding, Carrie doesn't give the impression that she thinks it's a real thing.
And now Socialist Realism comes to town courtesy of a huge banner hanging on what looks like Wanchai police station. The giant illustration shows fearless gallant cops defending civilization – including a stirring scene in which an officer is supporting a fallen comrade who has just been savagely attacked and dismembered by marauding mutant radical schoolgirls in yellow face-masks…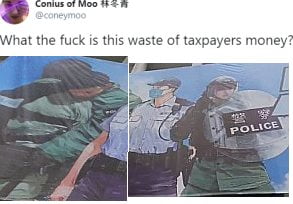 This is a classic example of a PR exercise that is actually aimed at its own subjects. Once admired and respected, the police are feeling misunderstood, under-appreciated and generally sorry for themselves. The portrayal of heart-tugging heroism is supposed to bolster the morale of the cops themselves, not win over the Hong Kong public.
Without (heaven forbid) wishing to sound cynical, the rather frequent uncovering of bomb plots – fleeting ones, no less – has a similar feel. To someone with a nasty and suspicious mind, the cops' anti-terror swoops do not even seem intended to shock the public into fearing extremist protesters. The point is to convince the police themselves that what they are doing is noble and necessary.
Little wonder that the biggest genuine explosion we've heard recently is that of Commissioner Tang's anger when his force's façade is pricked by RTHK's satire.