When they are not suffering from delusions that Hong Kong will at some time go 'back to normal', some frustrated establishment figures lash out with a sour note: Beijing, they mutter, is 'happy to let Hong Kong tear itself apart'.
It does seem like it. After seven months of protests, Hong Kong is stuck. The local government is forbidden by Beijing to take any initiatives so occupies its time issuing plaintive statements condemning violence. The only action Beijing has allowed is tough police tactics that, if anything, bolster support for the protests (good rant here) and assorted, clumsy administrative measures intended to weaken the movement.
On the other hand, the CCP has a phobia of civil unrest, and is especially paranoid about the possibility of an anti-government movement crossing the border. Its dilemma is that it can't envisage or countenance anything other than physical and other coercion. Some relatively simple concessions could win over moderates and isolate radicals. But the idea of bowing to public will is abhorrent to China's leaders in principle, and they have a particular fear of relaxing control or accommodating political reform.
So Beijing can only subjugate the movement through repression. This is why, after six months, counterproductive police tactics continue. It is why the local administration has snubbed opportunities to change tack – for example, through the October policy address, through its 'dialog forum', or in the wake of the November district council elections.
Examples of clamping-down so far include: tentative use of emergency laws; airlines firing staff, and government threatening schools, teachers and civil servants for their opinions; authorities targeting protest-related fund-raising, and maybe indirectly donors; stepped-up police action such as mass-arrests and deployment of provocateurs. Perhaps wary of public opinion or the courts, officials seem nervous about such measures – which clearly have 'Liaison Office pressure' stamped on them.
The sudden appointment of Luo Huining at the Liaison Office raises the possibility of a change in direction. Maybe he will 'reach out' and try to absorb moderate opposition into a more representative political structure to win hearts and minds. But that's not how he tamed Tibetans in Qinghai and corrupt officials and cronies in Shanxi. (By all accounts, he relied heavily on economic-development 'carrots' as well as disciplinary 'sticks'. This does not look good for our local parasitical tycoon caste.)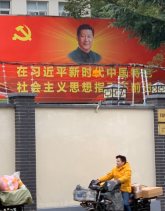 While it's hard to believe China's leaders are 'happy' to see Hong Kong in chaos, they may convince themselves there's a bright side to the situation. The fixation on curbing protests can be seen as justification for ignoring Hong Kong's need for structural change, rather than the other way round. (This is reflected in Hong Kong officials' insistence that 'the violence must stop first' before they can consider any measures to fix underlying problems.)
The crisis is also a pretext for curbing rights and freedoms for the longer term.
That points to more decisive Mainlandization to come in 2020. Expect greater pressure on corporations and institutions to regulate employees' views, cooperate with police anti-protest tactics, and to openly support the government line. Similar pressure on civil society. Loyalty tests for teachers and civil servants. Intimidation of opposition figures, perhaps by extra-legal means (triads, in plain language). Propaganda in schools (loyalists are already fussing about textbooks). Ditto RTHK. More surveillance (facial-recognition cameras, etc). Infiltration of opposition groups.
Since this will provoke greater resistance, we can see a cycle further ahead that is bound to extend to Internet censorship, criminalization of opinions, and politicized courts. The ultimate result will have to be a far more repressive society – say around halfway on the scale between Singapore and the Mainland.
There are two linked problems for Beijing. Externally, this process will undermine Hong Kong's appeal as a place to live and do business, and thus damage China's international image. Internally, it will create a far more embittered and resentful population, and nurture development of a deeper underground resistance culture and movement. This is where it gets interesting, because it is likely the CCP has no idea what it is up against. That underground society is already starting. More on which later…