Packing my bags for a trip to Taiwan for a few days. My fingers have a compulsive urge to type out: 'I will buy an apartment there and not be coming back'. But that would be premature.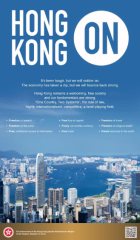 For the time being, a few links to stimulating and enlightening reading matter you might have missed…
Some thoughts on the Hong Kong government's rather feeble full-page ad in the international press – stressing repeatedly that the city's freedoms are intact. (Could these be freedoms Beijing officially abhors? Yes they could!)
In a similar vein, the BBC looks at Beijing's allegations of foreign interference in Hong Kong, finds no evidence, but notes that:
The very institutions – independent courts and a free press – that are supposed to be protected by the "one country, two systems" formula, are derided by the ruling Communist Party as dangerous, foreign constructs.
From HK Free Press: What Carrie Lam doesn't get about 'freedom'; and Hong Kong's rare experiment in government without legitimacy.
The Diplomat on the economic arm of the Hong Kong protest movement…
Supporting Yellow Shops is not simply sympathy, but an act of solidarity and part of a struggle to democratize the economy.
American Interest offers a long-term, semi-game-theory view…
The Hong Kong people are not afraid of not winning in the short term, but the CCP is afraid that the Hong Kong people are not losing.
So it's like shooting fish in a barrel, but an SCMP op-ed looks at how China is losing the propaganda/soft-power fight…
As long as China stands for neither equality nor freedom, its communication strategy is unlikely to work on any democracies.
On which subject, Quartz explains how a soccer-player in Europe has hurt the feelings of the Chinese people – but they're not allowed to know exactly how…
Most Chinese media outlets, for example, only describe Özil's remarks as "highly inappropriate" and "concerning Chinese sovereignty" without elaborating or referencing excerpts of the poem he posted.
For linguists, HKFP looks at how imperial rulers' dislike of foreign languages gave foreigners a key role in translating religious and political texts into Chinese, and how this has distorted China's understanding of concepts like democracy.
SupChina translates a state-media report on the 'swine stir-fry' syndicates – gangsters trafficking diseased pigs around China, using drones to spread African swine fever virus to manipulate prices, and other heart-warming tales of country life.
Also for fans of Mainland gruesomeness, China File on the Mainland's 'pickup artists' who train men to find a wife or girlfriend, complete with pictorial.