Losing count of the opportunities our leaders have had to do something… There was the Policy Address – a grand occasion on which the Chief Executive could announce attention-grabbing, earth-shattering radical initiatives, but didn't. There was the District Council elections, which was the perfect reason (or excuse) for a major wake-up call that changes everything, but passed by unnoticed. And now Carrie Lam is making her annual high-profile photo-op/visit to China's top leaders.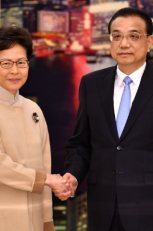 Chairman Xi Jinping lavishes implausible praise upon her. He also urges her to hurry up and quell Hong Kong's violence, while forbidding any method but force to restore the local government's legitimacy. Premier Li Keqiang brilliantly expresses the impossibility of this task through his renowned gift for emotional mime.
Back home, yet another frustrated and increasingly anxious business type says Hong Kong needs to 'restart talks on universal suffrage'.
Phrasing is important here. 'Restart talks' implies that they began in the first place. 'Universal suffrage' is the wording Beijing insists on, as it allows for a system in which the CCP chooses the winner, and everyone has a vote in a subsequent ceremonial or rigged election that produces the required result. There is no point in going through that again – indeed, after 2019, it would be even more absurd.
It should also be clear after 2014 that the CCP's Leninist outlook will not allow a democratic system that requires it to, in effect, share power with the people. (See also, while we're at it, this piece on the recent District Council polls.) Under Chairman Xi Jinping, it is certainly not an option.
What is, theoretically, possible is the appointment by Beijing of a loyal Hong Kong administration with instructions to govern as if it had a mandate from the people, and were accountable to them (subject of course to paranoid-CCP 'red lines' like ceding the territory to the CIA). That way, the local government gains at least some legitimacy by delivering policies that are vaguely responsive to public opinion. And Beijing can (in theory) relax and stop trying so desperately to Mainlandize the place.
That look on Li's face is not just because Carrie has that effect on people. The great news she will bring back from her annual work report/kowtow is that Beijing has no idea what to do.