Chinese officials and experts celebrate the anniversary of one Special Administrative Region's handover by having a few digs at the other. Hong Kong should emulate Macau by having patriots in charge and passing national security laws. And it should accept that Beijing has ultimate jurisdiction over everything, so there.
One big difference between Macau and Hong Kong (along with size and economy) is what happened in the mid-late 1960s upheavals in the two cities arising from social discontent and aggravated by the Cultural Revolution over the border. In Macau, the colonial authorities permanently lost much of their control and influence to pro-Beijing labour and business forces. There has since been large-scale immigration of Fujianese Mainlanders. When Leftists tried something similar in Hong Kong, the population largely resisted them and the colonial power kept control. This contributed to the development of a stronger and distinct Hong Kong identity. (Yes, this is all over-simplified.)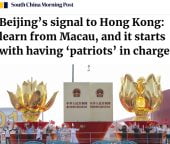 Macau has been docile for half a century. Only now is Beijing starting to think how to tame Hong Kong.
One of the many ways Beijing will try is through pressure on companies to punish employees for their dissenting views. Cathay Pacific have fired staff for participating in the protest movement, and there's a report (somewhere) that the Jockey Club has just sacked someone for pro-movement comments on social media. Mainland financial institutions are reportedly steering clear of Hong Kong staff. Other banks will no doubt feel a need to discipline staff for ideological incorrectness (several big ones already Panda-grovel by maintaining 'Belt and Road' departments and publishing economic analysis taking China's official data literally).
This provides us with another echo from the 1967 riots. Many Leftists in Hong Kong were arrested and jailed. They and known supporters were also blacklisted, so the only employers that would hire them for decades after were 'patriotic' pro-Beijing companies and schools. Who will there be to hire all the blacklisted pan-dems in the future?