Growing signs of impatience… Chief Executive manqué-to-be Christine Loh warns that following the district elections the ball is in the administration's court. It must seize this opportunity (the one that disappeared behind clouds of tear gas on Sunday) to take action to solve the city's political crisis. Even the SCMP, in yet another whiny editorial bemoaning oh-so awful radical vandalism and arson, manages to squeeze in some criticism of Carrie Lam's inaction.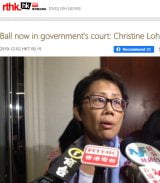 It is undeniably true that the Hong Kong government has, for the last six months, been as lifeless as the stuffed waxwork taxidermy thing in the glass case at the Mao Mausoleum. It is also true that, left to her own devices, Carrie would be responding to the ongoing calamity with a sort of barely noticeable dithering.
But, as the lady has managed to indicate discreetly, her hands are tied. She would love to get up and do something utterly useless and indecisive – but she's not allowed to. Beijing insists that the problem be solved through force alone. After 11,000 rounds of tear-gas, 5,000 arrests, a constitution-warping and counterproductive face-mask ban, the probably-irreversible dissolution of a service-oriented police force, a collapse in tourism, partial shutdowns of the transit system, and the total alienation of most of the public (plus Taiwan's), Beijing remains adamant that crushing and suppressing is the only way.
Last week, the screw tightened with possible civil-service loyalty tests. This week, it's purging the private sector.
And so we approach Month Seven, wringing our hands and lamely reciting the eternal delusion that only after the violence stops can 'dialogue' (whatever it might mean, between whomever) begin…