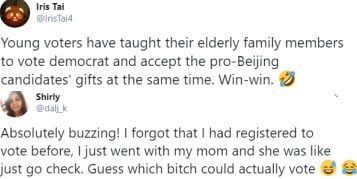 Blam. Who would ever have thought District Council elections could be so interesting?A few thoughts…
The big turnout (over 70% to elect mainly powerless bodies) must reflect both public anger against the government and additional effort by the Liaison Office/United Front forces to get loyal/persuadable voters out.
Actual breakdown of the vote behind the landslide outcome in DC seats looks to be around 60-to-40 pan-dem-to-pro-government (broadly in line with Legislative Council elections in the past). Pro-Beijing voices will try to convince/console themselves that this is a partial rather than unanimous kick in the teeth. (It would be interesting to know how many people didn't vote because of huge lines outside polling stations.)
Some serious scumbags (see Tweets below) got a good thrashing.
We don't have a breakdown of voting patterns by age group, but we do know the number of new and younger voters registering in the last year went up quite a lot. The role of teens and 20-somethings in protest activities suggests that not many of this age group are big fans of the CCP. Their first experience of voting will have been memorable.
Fortunately, a few pro-Beijing folk have won seats on councils. I say fortunately, because the experience of being heavily outnumbered by true representatives of the community will be instructive for them. (It is possible that the bodies will pay more attention to residents and less to cronyism – you never know.)
We will hear a lot about how District Council members have votes in the Chief Executive 'Election Committee', and how this could influence the 2021 CE 'election'. (Example here.) This is rubbish: despite the apparent complexity of the structure, the Committee is designed in such a way that it can produce only the result pre-ordained by Beijing (essentially through an inbuilt majority). The parts of the body that Beijing cannot totally and certainly control (including the democratically elected members) are in practice just there for show. The CCP does not leave these things to chance.
It's unlikely that this will increase the CCP's fondness for democracy. Don't be surprised if a few shoe-shiners tut-tut about how Beijing has 'lost trust' in Hong Kong people as a result of yesterday.
Obvious question: can Beijing and its local proxies Carrie Lam et al seriously just sit there, blather inanities, and do nothing after this?
Obvious answer: yup.