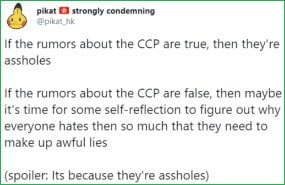 It's been a fraught couple of weeks. The District Council elections are on Sunday. Will Hong Kong have a relatively calm weekend? Many have been asking this question for 20-something weeks in a row – the answer must be 'yes' eventually. Yet the government or police always manage to do something stupid that sets everything off again. Cancelling or otherwise messing around with the elections would be such an obvious mis-step that even these idiots could see it. More likely, some frazzled cop with an assault rifle sprays a whole magazine into a crowd of grannies going to vote.
I declare the weekend – peaceful or chaotic – open with a selection of worthy viewing matter.
A riveting Stand News report from Poly U under siege – the Longest Day. And another one from the embedded team at Reuters.
Antony Dapiran in New Statesman on the week Beijing let Hong Kong burn…
With no signs of any compromise on the horizon, it appears that Beijing's strategy for the moment is simply to let Hong Kong burn, with the expectation that the growing disruption and violence will ultimately undermine support for the protest movement, deepen the divisions in Hong Kong society, and create fertile conditions for Beijing to step in and impose order on a society-wide basis in the medium term.
As the author mentions, Mao Zedong had a roughly similar policy to Tibet in 1959. I'm not so sure Xi Jinping would calculatingly choose such a reckless approach to a major international city in 2019. Much of the mayhem is due to the disproportionate measures Beijing officials have demanded to Crush the Protests Now for fear they spread over the border. More likely, Beijing's apparent indifference to imposing a political solution masks cluelessness or internal disagreement over what to do.
Mary Hui at Quartz looks at the bottom-up, decentralized nature of Hong Kong's not-leaderless-but-leaderful protest movement as an example for future uprisings worldwide.
The Hong Kong Bar Association's statement on Beijing's panty-wetting hysterics after the High Court's rejection of the government's mask ban.
Some scurrilous and obviously untrue stuff from LIHKG about new Police Commissioner Chris Tang.
From deep inside the Beltway, Richard Bush of the Brookings Institute pens a laboriously even-handed survey of how Hong Kong came to this (apparent) end.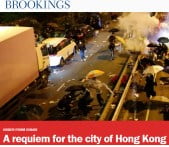 Basically, it's everyone's fault. It's Beijing's fault for letting greedy tycoons and their bureaucrat buddies treat the place as their personal ATM. It's the greedy tycoons' fault for being so ridiculously and outrageously greedy. And it's the disgruntled Hong Kong people's fault for misjudging Beijing's reaction to their disgruntlement. (To inspire the disgruntled on correct Panda-handling – should you ever again find your city being wrung dry for decades by CCP-backed rent-seeking ogres – the author quotes Gandhi Lord Acton Oscar Wilde Kenny Rogers.)
So determined is he to point out that we are all, in our own ways, to blame, he even hints that it's partly the fault of the British for handing the place over to China with rule of law and civil rights pre-installed – thus politicized, you see.
On to culture and creativity… The Chinese national anthem (all about refusing to be slaves, etc) set to an Entirely Wrong video. From Quartz again, Vivienne Chow on what Hong Kong's protest aesthetics owe to One Piece. And Radical Art Review on Hong Kong's Lennon Walls.
In Mekong Review, Richard Heydarian takes a Southeast Asia-oriented look at George Magnus's book Red Flags: Why Xi's China Is in Jeopardy. (If you missed it, Magnus on how China's approach to Hong Kong could affect the wider world.)
An Australian Strategic Police Institute piece on how the NYT's scoop on Xinjiang could hurt Xi Jinping. Also from Oz, Sydney Morning Herald on CCP proxies sustaining a Chinese Traditional Quack Medicine 'institute' that some idiot started up.
Some updated advice for doing business in China (it's not getting easier).
Finally, for map freaks mainly – those old bird's-eye view maps of Japanese cities.