The High Court rejects the Hong Kong government's genius mask ban. A Beijing spokesman calls the ruling a 'direct challenge to the authority of the Standing Committee of National People's Congress and the chief executive'. Awkwardly, the CE's own government says it will comply with the ruling (though possibly appeal).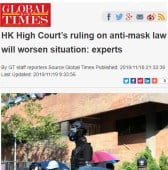 More mouth-frothing follows from various Mainland 'experts' who suggest that the court is ignorant, living in a 'dinosaur era' and 'inciting protesters'. One rants about 'infiltration of politics into the judiciary'.
Assuming an appeal would be time-consuming and unpredictable, it looks like Beijing will use its 'interpretation' mechanism to overrule the court. The process is dressed up in blather about the NPC Standing Committee divining the true, authentic and original (but hitherto unnoticed) meaning of the Basic Law (the wording of which says mysteriously something totally different). In reality, it is an instant rewrite to make the mini-constitution say whatever happens to suit the Communist Party at the time.
It is so heavy-handed and unconvincing – and clearly a travesty of Hong Kong's common law system – that Beijing has used it sparingly, either out of expediency in specific cases or to make a point of principle. It this case the 'interpretation' might rest on issues of security and public order, or on the Hong Kong court's impertinence in ruling on a law's constitutionality (or both). But to the world watching, it will look both absurd (a mask ban, seriously?) and a blatant violation of rule of law in Hong Kong.
Meanwhile, Hong Kong's hapless officials must put on an act of respecting the local judiciary and groveling to the CCP simultaneously.