While I was appeasing the wrathful Gods of Toil, Hong Kong suffered too much outrage, idiocy and mystery to keep up with. A young protester badly injured dead after falling from a car park. Slimeball Junius ex-'Dr' Ho apparently semi-stabbed. Talk of postponing District Council elections. A 16-year-old convicted of carrying a laser pen. The government banning political and satirical products at the Chinese New Year fair.
Understatement of the Week Award goes to an SCMP op-ed…
A shift in Beijing's approach to governing Hong Kong is about to start. We do not know precisely what form it will take. But it appears the central government is preparing to further tighten its grip on the city. There is a danger it will opt for measures which cause further discontent.
It has already started. Beijing will tighten its grip. You can bet this will provoke further resistance.
The current crisis builds on backlashes against Beijing's earlier attempts to impose national security laws, national education and permanent top-down CCP-appointed cronyist government, accompanied by attacks on the rule of law. The Chinese leadership's solution: try to do them again, but more forcefully.
One more explanation-by-Twitter-thread of this process: how freedom of assembly has been curtailed in Hong Kong in recent months. In brief: the banning of public marches, use of authorized assemblies as 'arrest traps', and police incursion into private premises.
Another example is the transformation of the HK Police into a colonial-style paramilitary force primarily tasked with keeping the natives down. The police tactics have probably irretrievably alienated the bulk of the public. This points to, among other longer-term trends, higher crime rates as the cops focus on suppression of dissent and lose public trust. The behaviour of the police has probably now surpassed the incompetence of the government as an ongoing cause of popular discontent (which the cops were deployed to deal with in the first place).
Here's a depressing explanation of the HK Police use of the word 'cockroaches' for protesters. Basically: 'Use of dehumanizing language is necessary for police to justify violence against protesters and civilians. It is hard to be brutally violent against your own kind otherwise.'
And all you want to know about the effects of tear gas on the population.
If you read only one thing today, make it this Asian Affairs Report on the Hong Kong 2019 Protests by a former cop, with a focus on the role of the police – or the authorities' refusal to use alternatives – in worsening the situation…
…because of the absence of a political solution, every time the Police respond with force they alienate more of the public.
…The Hong Kong Police moved from a situation of widespread public acceptance and support to one of public distrust and even hatred. This is a crisis of legitimacy for the Police.
…the strategy remains to use force against all participants in unauthorised political protests. This inevitably results in strategic political defeat.
Note that last sentence: if the Hong Kong people win this uprising, thank the cops.
I declare the weekend open with a variety of worthwhile links.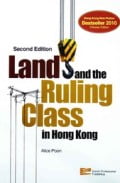 An interview with Alice Poon, author of the magnificent Land and the Ruling Class in Hong Kong. Ignore the factual errors in the introduction by lausan.hk – the rest is a good summary of land policy's role in screwing up Hong Kong.
Richard McGregor on how Xi Jinping's hard line on Hong Kong undermines China's aim to take over Taiwan.
The logic of Chinese politics in the Xi era makes a softer, more accommodating line from anywhere in the system untenable, unless it comes from the top. In turn, Xi himself is determined not to display any weakness on either issue, lest he should give his critics ammunition that can be used against him…
The "one country, two systems" formula was devised by Deng Xiaoping and once sounded like an ingenious way to win over Hong Kongers and bring them gradually and willingly under Chinese rule. Now it just looks like another form of colonization.
I remember a time when strategists dismissed China's putative invasion of Taiwan as 'the million man swim'. A more up-to-date analysis of the situation…
President Xi seems willing to use force.  He increasingly sounds like a resentful drunk talking himself into a fight in a South Boston bar at 1:00am…
Onto cultural matters. I thought it was just personal taste that leads me to like listening to Indian ragas (click on pic above for one) but never to Chinese music. But it seems experts agree: Indian and Western music are much richer, and the Chinese pentatonic-scale-with-no-harmonics stuff really is a big snooze.
Having said that, in all fairness, there's always Cantopop. Here's Shirley Kwan set to Hong Kong protest footage.
And a mystery sighting in Taiwan – and it's not Elvis.