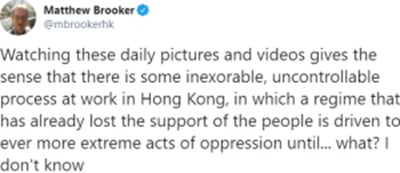 After last Sunday in Salisbury Road, the Hong Kong Police now bring you the Tuen Mun neighbourhood-revolt suppression and the Lan Kwai Fong Halloween anti-mask freak-out. The best explanation I've heard is that Beijing is demanding that protests be crushed ASAP, Mainland-style, and no-one in Hong Kong has the ability or willingness to point out how it won't work here and instead make things worse.
Another theory is that Beijing is deliberately trying to create conditions that would justify sending the troops in. That sounds less likely, not to say idiotic – but the current cycle of ever-greater use of force points to that eventual outcome anyway.
The CCP's Plenum has issued a vague statement about strengthening national security in Hong Kong…
Hong Kong-based China watcher Johnny Lau Yui-siu said he expected to see a clear shift in policy direction as Beijing looks to strengthen its control over Hong Kong.
"This is clearly suggesting a wide range of unprecedented controls that are going to be exerted over Hong Kong as Beijing has lost its patience for one country, two systems," he said.
"The communique sends a strong political message that might see Hong Kong respond by introducing new legislation to restrict free speech online, outlaw abuse of the police and increase controls on campus," he said.
Pretty much what many of us have assumed for some time. This will produce greater resistance within Hong Kong, test the local pro-establishment camp's loyalty and provoke greater international criticism. To what lengths will the CCP go to avoid relatively simple changes that would give Hong Kong more responsive local government and confidence that it will not be subjected to more Mainlandization?
I declare the weekend open with some choice reading…
Atlantic does a profile of localist hero Edward Leung.
Reuters recalls that all politics and news are local, and produces a big report 'Below Lion Rock' on how Wong Tai Sin is faring in the protests.
A Water Revolution of a different sort: Zolima Citymag on the challenge and cultural meaning of swimming around the whole of Hong Kong Island.
SupChina's introduction to Hong Kong independence – the Panda in the Room.
And in case you can't get enough depressing stuff out the Plenum, the Globe and Mail on Xi Jinping's creepy narcissistic religion-substitute national(ist) ethos: the Outline for the Implementation of the Moral Construction of Citizens in the New Era.