For the 20th week in a row, a group of top-level Hong Kong government officials sit in a conference room. The Ad Hoc Rampaging Protesters Unleashing Chaos and Violence Committee comes to order. As in 19 previous meetings, attendees are discussing what the administration can do to bring an end to the regular and unending cycle of rallies and demonstrations turning into mayhem on the streets.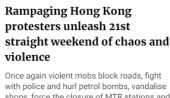 There is silence around the table as one policy secretary after another mumbles or shrugs. Suddenly, the Security Bureau boss sticks his hand up. "I've just had an amazing idea! Let's send in hundreds of riot police to fire tons of tear gas all over the place! I bet it'll work this time!"
I was at the 'illegal gathering' (the SCMP's description) yesterday. Although there were plenty of black-shirted (but mostly non-battle-equipped) younger folk there, the crowd had above-average numbers of the middle-aged Respectable Bespectacled Brigade, including media types, perhaps because the rally's original theme concerned press freedom. Some were in wheelchairs. They did not seem to present a threat to law and order.
There were also platoons of heavily equipped riot police everywhere, obviously just waiting to start firing their sub-lethal weaponry. Soon enough, the Peninsula Hotel was shrouded in smoke. Many demonstrators squeezed out through the Avenue of Stars. Tourists with luggage waited in vain for taxis outside the InterContinental. And a few hours later – in accordance with the routine of nearly five months – clashes broke out further up Nathan Road, with the usual arrests, injuries, etc.
Other districts saw outbreaks over the weekend. The almost ritualized heavy-handed police tactics – tear gas everywhere, arrest anyone you can grab – has become one of the main causes of the protests. Protests against police over-reaction are met with more police over-reaction, which leads to (duh) more protests.
Back in the government conference room, nobody asks if this is isn't getting really stupid. However, Louisa Lim and Ilaria Maria Sala in the Guardian step in:
The escalating weekend insurgency and the police brutality deployed in response have marooned the territory in a cycle of violence that is doing serious damage to its economy, rule of law and public trust in its institutions.
… The authorities are boxed in: any political reforms that fall short of concessions or real dialogue would likely worsen the situation, as would no action at all.
They mention the 'Northern Ireland' scenario of perpetual troubles.
The authorities – essentially Beijing – are indeed 'boxed in'. It is fanciful to imagine the Leninist Xi Jinping regime allowing Hong Kong even mildly representative government. But it is also hard to see them going 'full-Mainland' via a rapid imposition of censorship, martial law, suspension of habeas corpus, and so on, given the risks of serious insurrection and international sanctions.
There are several other variables. Beijing's fear of rebellion crossing the border would override any other consideration, for better or worse. There are strategic international factors at play (sanctions, etc). And there is the possibility of factional struggles among the CCP elites.
A more local variable: the owners of Hong Kong's hotels and malls must be starting to feel pain. Local policymaking traditionally revolves around the needs of these family-run conglomerates, whose heads have correspondingly shoe-shined Beijing for decades. They probably have little clout, and few friends – if only they had been nicer to their fellow citizens over the years! It couldn't happen to a nicer bunch of parasites.
Barring a serious – and hard-to-envisage – shift, perhaps we do face a real prospect where this does not end. A future of permanent paramilitary occupation and low-scale insurrection, but blissfully few tourists.