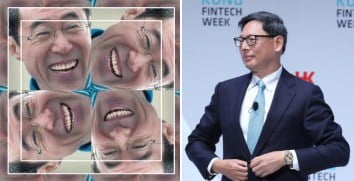 It seems Hong Kong officials use Reuters as their preferred conduit for leaks (or 'scoops' as media folk call them), while their Mainland counterparts prefer the Financial Times. The latter today reveals (paywall, etc, possibly) that Beijing will eject Chief Executive Carrie Lam, maybe in March, after things have 'stabilized' ha ha. (Reuters catch-up here.)
The precedent is the FT's shock story (if memory serves) on the imminent dumping of Tung Chee-hwa in favour of Donald Tsang back around 2005.
The FT's latest exclusive on CE defenestrations falls a bit flat by suggesting that the 'leading candidates' to replace Carrie – as an interim – are Henry Tang and Norman Chan.
Slightly buffoonish nice-guy billionaire-scion Henry was due to get the job in 2012, but a last-minute switch (at the same time Xi Jinping was coming into power) led to ultra-patriot CY Leung 'winning' the quasi-election. Installing 'Illegal Basement' Henry at this stage would look like a sop to the very tycoons Beijing partially publicly blames for Hong Kong's woes. It would also be an insult to the whole city to appoint someone with so little gravitas – though arguably it would give us all a laugh. He could only be a temporary and very, very obvious puppet.
There would be a nice symmetry to it: in 2005, a dimwit tycoon was replaced by a dimwit bureaucrat; in 2020 it's the other way round (with a rabid-Red CCP fanatic from 2012-16 as an interregnum).
If Beijing wants to go for a halfway convincing CE, technocrat Norman Chan makes more sense. He has just left the top post at the HK Monetary Authority, which oversees the currency peg and bank regulation – which is at least a real job requiring some brain cells. But that's what people said about former Financial Secretary Donald Tsang, who went on to become another failure.
Whatever happens, any Hong Kong CE from now on will be no more than a figurehead while Beijing presumably tries to sort out a more sustainable and effective approach to imposing ethno-nationalistic neo-Confucian Stalinist dictatorship on a modern, free and pluralist society.
Hong Kong's resistance – now a direct confrontation with the CCP and an international issue – may just be beginning. But at least perhaps everyone agrees that, after 22 years, this whole routine of appointing CEs who turn out to be crap and scrabbling around for another is getting a bit stale.
Update: anyone worrying that an 'interim' arrangement isn't allowed under the Basic Law (here, here) can rest assured that, if you're the CCP, anything is allowed under the Basic Law.