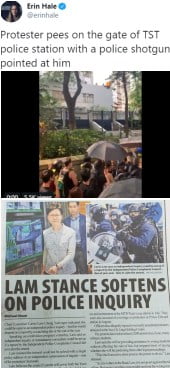 The Hong Kong government's mask-banning, blue-water-spraying, MTR-suspending, tear gas-firing, panty-wetting and freaking-out over protest mayhem celebrates a 20th straight week of continued dazzling success.
Observers scratch their heads and ask whether or when the administration will notice that its current approach doesn't seem to be working. Apologists sigh and mumble that our supposed leaders' hands are tied.
Then, as Hong Kong's crisis looks like it can't get any worse, the inevitable happens. We learn that family members of Mainland Affairs minister Patrick Nip bought brand-new apartments just ahead of the Policy Address, which included measures to (more or less) boost home prices. Who is more brain-dead: Nip for letting relatives do something so cliched and embarrassing, or the family members themselves for buying absurdly overpriced apartments at a time like this?
Let's sift through today's signs that things aren't getting better for the government. For statistics geeks, a look at the methodology behind the public opinion polls showing the collapse of trust in the HK Police. Scroll past the parts about things like "Kruskall-Wallis H = 105.67, p < .001 (ε2 = 0.07)" down to where he says "Holy crap…" for the conclusion. And a stock analyst in the Standard who normally drones on about the latest hot concepts decides to rip the Policy Address to shreds.
There are also signs of a split in the pro-government camp. On one side are True Red pro-CCP elements People's Daily, ex-Chief Executive CY Leung and Mainland princeling-intellectual Ren Yi; on the other side are moderate establishment figures Chinese U Vice-Chancellor Rocky Tuan, who (sort of) sides with students against the police, and CE Carrie Lam herself for hinting at the need for an independent inquiry into the cops. (More on university chiefs walking a fine line here, and Carrie on a police inquiry here. There are other murmurings suggesting top local officials are uneasy about the Yuen Long incident in particular.)
I say a 'split in the government camp'. This is a longstanding, papered-over division becoming more visible – ideological nationalist patriots versus wishy-washy ruling-class 'elite' types who cling to 'Western' values. Beijing has thousands of ruthless full-time United Front enforcers tasked with preventing or rectifying such splits, and this represents a serious breach of ideological discipline and/or loyalty. Rocky could be in danger of getting the John Slosar treatment.